CPT receives Cisco Collaborate Architectural Award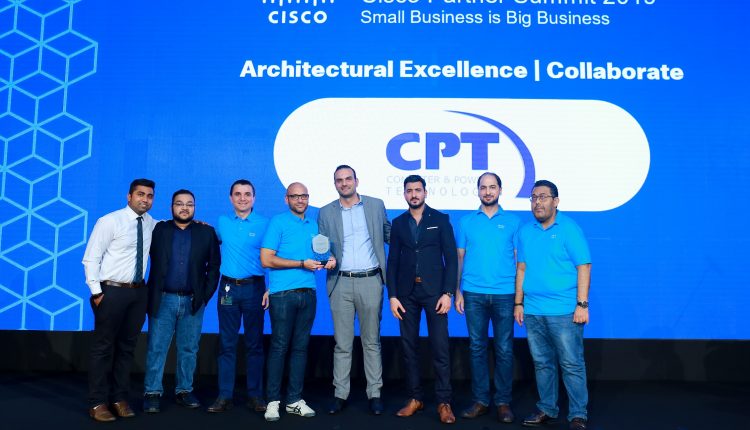 Computer & Power Technology (CPT), a part of MIDIS Systems Integration Group has been awarded the 'Cisco Architectural Award – Collaborate" at the Cisco Partner Summit 2019.
The recognition highlights the incorporation of Cisco's Collaboration portfolio with Apple B2B products and services for greater customer and employee experiences and business growth.
The UAE-based systems integrator, attributed its success to its ongoing efforts in providing cybersecurity solutions.
Shadi Salama, channel lead, East Region, Middle East, Cisco, said, "CPT has embraced workplace collaboration on an internal level as well as with their customers. Besides standardizing their own operations on Cisco Collaboration, they are leading conversations with their customers to transform the way they work. Their innovative approach combines Cisco Collaboration solutions with Apple to deliver a best in class experience for their customers."
The company's objective is to help customers take advantage of cutting-edge technologies which enables them in successfully realising their full potential for future advancement.
As a Gold Cisco Partner, CPT works on the entire Cisco Portfolio covering Networking, IoT, mobility and wireless, security, collaboration, data center and specialised services.
"Our analysis showed us the there is a growing need to provide our customers with solutions that transform the way they communicate and interact with a more collaborative technology approach. The "Collaborate" Architecture award from Cisco showcases CPT's desire to stay ahead of market trends by working closely with global vendors like Apple Education and Enterprise. This includes the Cisco Collaboration range of Conferencing, Contact Center, Unified Communication as well as phone and video device needs," said Cesar El-Ferkh, sales director, MDS CPT.