Living on the edge
On the sidelines of GITEX, Dr Chris Cooper, Director and General Manager, Lenovo Data Centre Group MEA. talks about how his company is supporting the digital transformation ambitions of its customers.
Can you tell us about your participation at GITEX this year?
We are thrilled to have face-to-face engagements with our customers and partners. The theme for our participation is 'the data centred,' which entails how we are working closely with our customers to help them exploit and understand the value of data they are generating. At Gitex this year, we are showcasing solutions that help our customers bridge from edge to the cloud. This includes our 5G mobile phones, foldable PCs, and cloud solutions. In particular, we are demonstrating our SE350 edge server, which is designed to sit outside the data centre. It is designed to operate in ruggedised environments with the ability to handle temperatures up to 55 degrees C. It is equipped with GPUs that allow you to do true analytics at the edge.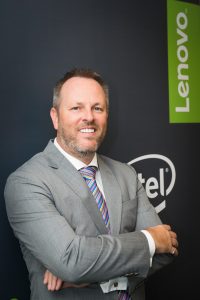 We are also showcasing our partnership with the immersion cooling company Submer. When you move to the edge, you usually are taking infrastructure designed to run in a secure and climatised environment to the field. The technology has to operate in not ideal conditions. So we have literally put our servers and networks inside a closed system with a thermally conductive liquid, which has less power requirements than traditional cooling technologies.
Are you leveraging AI in your systems?
If you look around at our stand, we are demonstrating an AI system built on the SE350 edge server that we have been using here in the pandemic. It monitors visitors walking past our booth to identify if they are maintaining two-meter social distancing rule and gives warning signals. It also checks if they are wearing masks. We are also showcasing our partnership with Microsft as we are the only supplier to deliver Azure to the edge, outside of the traditional data centre with MX1021 edge servers. We have two of those nodes on display.
How do you define the new normal?
Things have changed. We all expected digital transformation to come to a grinding halt because of the pandemic. But, it actually accelerated as companies started getting acclimatized to the new normal. Now we see a shift towards VDI and remote work will be the norm. We are also seeing big growth in our hyper-scale business and growth opportunities in the edge-to-cloud solutions because huge volumes of data are being generated outside the data centre.