New breed of change agents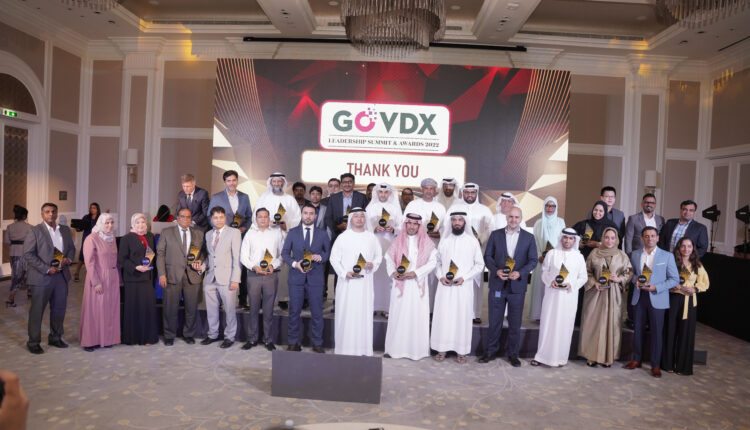 The public sector is leading digital innovation, harness the potential of social, mobile, and artificial intelligence technologies to drive transformation change and make service models that are sustainable in the long term. Government CIOs in the Middle East are adopting technology innovations to support the mission of their organisations.
The inaugural GovDX Leadership Awards, organised by CXO Insight ME, recognised some of the outstanding digital transformation projects from the public sector spanning multiple categories and IT and security leaders driving these initiatives.
Below is the list of winners:
Malaffi – Digital transformation project of the year
Ajman University – Digital transformation project of the year
Bahrain Institute of Public Administration (BIPA) – Digital transformation project of the year
Ankabut – Digital transformation project of the year
Union Coop – Digital transformation project of the year
Directorate General of Health Services, Al Dhahirah Governorate – Ministry of Health – Sultanate of Oman – Digital transformation project of the year
Dubai Health Authority – Digital transformation project of the year
Electronic Government Authority of RAK – Digital transformation project of the year
Department of Public Works, Sharjah – Digital transformation project of the year
Dubai Municipality – Digital transformation project of the year
Sharjah Electricity and Water – Digital transformation project of the year
Ministry of Islamic Affairs, Dawah and Guidance – Emerging technologies project of the year
Ministry of Industry and Advanced Technology – Emerging technologies project of the year
Sharjah Research Technology and Innovation Park – Emerging technologies project of the year
Al Dhafra Region Municipality – Emerging technologies project of the year
Ports, Customs and Free Zone Corporation – Emerging technologies project of the year
Ministry of Health and Prevention, Dubai – Government mobile app of the year
Dubai Police – Government mobile app of the year
Sharjah Finance Department – Cyber security project of the year
Etisalat – Smart city project of the year
Fujairah Finance Department – Digital platform of the year
Dubai Department of Finance – Transformation team of the year
Dubai Police – Transformation team of the year
Bader Husni Zyoud from Sharjah Government's central finance department – Government security leader of year award
Mubaraka Ibrahim, Emirates Health Services – Government woman CIO of the year
Sameer Khoory, Ministry of Health Prevention, Dubai – Government CIO of the year
VENDOR AWARDS
Best wireless networking vendor  – TP-Link
Best backup storage vendor award – ExaGrid
Best network monitoring software vendor  – Paessler AG