Canon drives technology-enabled education in Kuwait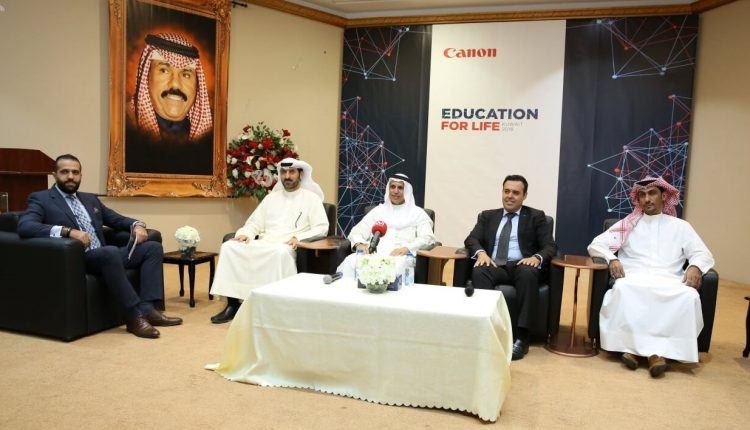 Canon Middle East has partnered with Al Sayer group and the Kuwait Teachers Society to demonstrate its suite of solutions that address challenges brought about by the changing needs of key education sector stakeholders – students, teachers, and administration. Under its 'Education For Life' campaign, the company showcased its commitment towards enabling the digital transformation of the education experience in Kuwait at an event held at the Kuwait Teachers Society in Kuwait City.
According to the company, the education sector can benefit greatly from a technology-enabled transformation, benefiting stakeholders of today as well as nations in future. Key areas of consideration are their strategies towards: student data management; the document-heavy admissions and enrolment process; differentiating the learning-teaching experience for students and teachers, and; ensuring competitive quality across all processes.
Ali Ahmed Al Kandari, Board Member of the Kuwait Teachers Society and First Advisor of Computer Curriculum at the Ministry of Education, said: "Recognizing that a key facilitator of improvement is knowledge transfer across the sector and between public and private institutions, it is our pleasure to host the Education for Life roadshow with Canon to present the opportunities available to educators in the country to effectively transform the learning experience in the classroom and solve the challenges they face with the integration of new technologies."
Shadi Bakhour, Business Unit Director, B2B, Canon Middle East, said: "Education for Life aims to creatively demonstrate the role technology can play in enabling organizations to innovate across multiple areas of process optimization, communication efficiency and educational personalization, ultimately unlocking higher efficiency and superior learning experiences. We are thrilled to bring this roadshow to this country in partnership with the Kuwait Teachers Society as we believe that our technology is uniquely placed to help students, teachers, and administrative staff, unlock the power of digital to better prepare tomorrow's workforce."
The Canon 'Education For Life' roadshow was launched in Dubai and Abu Dhabi earlier this year, followed by Riyadh, Amman and today in Kuwait City. The roadshow will continue to be conducted in cities across the GCC and the broader Middle East region this year.