CXO Insight ME pays tribute to IT visionaries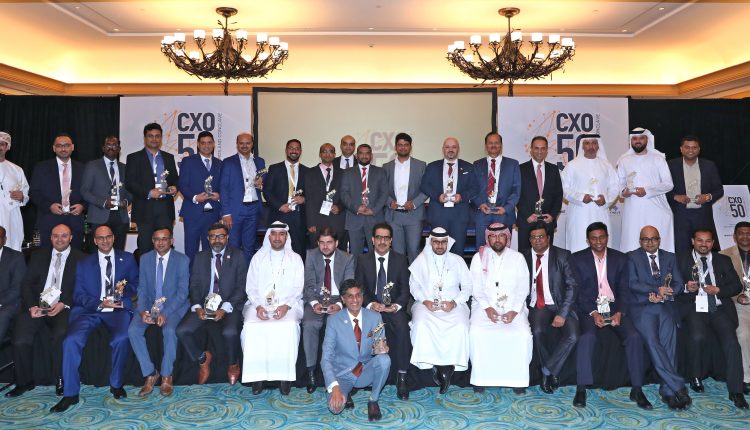 The inaugural CXO 50 Awards, organized by Insight Media and Publishing, was held in Dubai today at Atlantis the Palm Hotel.
Chosen by a judging panel comprising industry experts, the CXO 50 Awards recognised IT and security leaders, who have achieved operational excellence with best practices, new methodologies, and right technology resources.
The winners were selected from a pool of nominations across the Middle East after a rigorous review process, and judging criteria included expertise in IT, business value delivery and innovation in IT initiatives.
The awards ceremony was preceded by a conclave with presentations from Venkatesh Mahadevan, CIO of Dubai Investments; Ed Sleiman, CISO of King Abdullah University of Science and Technology; and Lakhwinder Singh, technical manager at Gemalto.
This was followed by a panel discussion on digital transformation trends in the Middle East featuring Ashith Piriyattiath, CIO of Al Masah Capital; Jonathan Wood, GM of Infor IMEA; Tarek Helmy, regional director of Nexans Cabling Solutions; Rami Dawoodi, regional sales manager of Gemalto; and Sunil Paul, co-founder and executive director of Finesse.
Here is the full list of winners:
Mubarik Hussain, Bloom Holding
Abdalla Al Ali, DMCC
Ajaya Kumar, Amity Education
Ashith Piriyattiath, Al Masah Capital
Khalid Jalal, GARMCO
Jaykumar Mohanachandran, Precision Group
Hamed Obaid Sebait Areidat, Federal Authority for Identity
Fahad Deshmukh, Galfar Emirates
Praful Thummar, Jazeera Airways
Shanu Ammunni, Ishraq Dubai
Kausar Mukeri, Invest Bank
Shumon Zaman, Lamprell
Nitin Bhargava, Mashreq Bank
Wael Othman, Rotana Group
M Shahzad, RDK Investment
Mohannad Hennawi, Naffco
M N Chaturvedi, Al Shirawi Group
Khawla Salem AL Qubaisi, Abu Dhabi Judicial Dept.
Ed Sleiman, KAUST
Manoj Menon, Spotcheck
Sunando Chaudhuri, ADNEC
Mario Foster, Al Naboodah Group
Kumar Prasoon, Al Safeer Group
Manish Bindra, Galadari Bros
Martin Wallgren, Gulf Agency
Mohamed Hassan, Government
Vinay Sharma, Gulftainer
Abdullah Alothman, Ministry of Media, Saudi Arabia
Hasnain Juzer Ali, Saudi German Hospital
Ali Asgar Bohari, Zulekha Hospital
Mansoor Al Marzooqi, MDS Business Management
Nawaf Mohamed Abdulrahman, MKCC
Ahmed Al Ahmad, Nakheel
George Eapen, Petrofac
Tushar Vartak, RAK Bank
Dr. Tariq Saleh Mohamed Taha, Bank Dhofar
Madhusuthan, Bahri & Mazroei
Sreedhar Reddy, Aldar Properties
Fayaz Badubhai, Al Yousuf Electronics LLC
Basil Al-Suwaidan, Kuwait International Bank
Joseph George, SKMCA
Anshul Srivastava, Union Insurance
Faisal Eledath, National Bank of Oman
Arnab Debroy, Metito
Fuad Al-Ansari, ADNOC Refining
Suren Shetty, UAE Exchange