Ericsson, Oman's Ministry of Finance Sign Agreement to Establish CoE
The CoE will bring industry and academia together, test out new technologies, develop skills and explore the full potential of 5G and IoT applications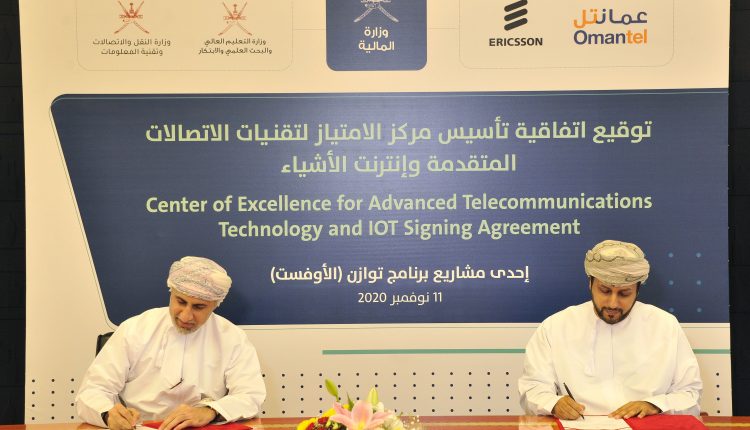 Oman's Ministry of Finance, in partnership with Ericsson, has signed an agreement to establish a Center of Excellence for Advanced Telecommunications technology and IOT (CoE) to facilitate 5G and Internet of Things (IoT) in Oman. The Ministry of Finance also signed a cooperation programmes with the Ministry of Higher Education, Scientific Research and Innovation and Omantel to establish the Center and the Ministry of Transport, Communications and Information Technology to execute consultation strategic study.
The agreements were signed by Dr. Dhafir bin Awadh Al-Shanfari, on behalf of the Ministry of Finance, HE Dr. Saif bin Abdullah Al-Haddabi, Undersecretary of the Ministry of Higher Education, Scientific Research and Innovation, HE Dr. Ali bin Amer Al-Shaidani, Undersecretary of the Ministry of Transport, Communications and Information Technology, and Baha Al lawati, vice president enterprise of Omantel, and Dr. Abdullah bin Darwish Al Balushi, President of Ericsson Oman.
The Center of Excellence in Communication Technologies project is one of the components of Oman Tawazun (Offset) Program, which is one of the economic tools used in more than 100 countries around the world with the aim of diversifying the country's economy by investing in projects and programs that serve the country's strategic objectives.
Ericsson, in support of the Tawazun program, will provide technological support and oversee training programs that include workshops, trainings, specialized professional courses and mentoring programs targeting participants from telecommunications institutions, commercial and industrial institutions, as well as university students, researchers and innovators. It will also support the development of research projects, including projects on 5G and IoT applications.
In addition, digital laboratory programs will be implemented for school students aged 11 to 18 years, as well as access to online learning platforms. The CoE aims to spearhead the development of Oman's 5G mobile network infrastructure to support Oman's digitalisation, as well as empower the transformation of Omani business and society.
Dr. Dhafir Al-Shanfari from the Ministry of Finance said, "We aim to establish a Center of Excellence in line with Oman's Vision 2040 to contribute towards diversifying the economy, bolstering various industrial sectors and keeping pace with global developments in the field of telecommunications technology and IOT. The center will play a key role in enabling digital transformation, boosting efficiency of institutions, SMEs, researchers and innovators.
"We have launched 16 projects within the Oman Tawazun program, designed to support the military and security sectors, the private sectors, and the development of human resources. We're pleased to partner with Oman's government agencies, Ericsson and Omantel to enhance our 5G core competencies and create a robust 5G ecosystem that will allow the Omani society to benefit from the anticipated growth opportunities 5G will bring."
Commenting on the occasion, Abdullah Al Balushi, President of Ericsson Oman said: "The Center of Excellence will bring together Ericsson's long-standing experience and expertise in the field of 5G-networked industry to contribute towards mapping the digital future of Oman. We aim to unleash the creativity and innovation of Oman's industry, academia and entrepreneurs to fully leverage and propel 5G in the region. This will not only help develop new 5G-based apps and business models, but also contribute towards achieving Vision 2040."
 The CoE will be incubated and managed by the Ministry of Higher Education, Scientific Research and Innovation at the Innovation Complex in Muscat, while Omantel will offer necessary telecommunications support. The complex seeks to provide an incubating and stimulating environment for researchers, innovators and entrepreneurs, turning ideas based on scientific research into reality and playing a key role in diversifying the economy.
His Excellency Dr. Saif bin Abdullah Al-Haddabi, Undersecretary of the Ministry of Higher Education, Scientific Research and Innovation said: "By signing this agreement, we aspire to provide the innovation community in Muscat with an integrated center that contains the latest equipment and tools that will benefit researchers and innovators alike. The upcoming Fourth Industrial Revolution will transform all walks of life which makes it an imperative to keep pace with accelerating technological development and prepare the future workforce."
He added, "The Muscat Innovation Complex encompasses facilities to ensure sustainable scientific development along with initiatives and programs that bring research and innovation to the forefront. I appreciate the support of the competent leadership in the field of education, scientific research and innovation, who have a singular aim to activate a knowledge-based economy supported by scientific research, innovation and entrepreneurship as well as strengthen Oman's position as a scientifically advanced country in line with Vision 2040."
The Ministry of Transport, Communications and Information Technology in cooperation with Ericsson will work on strategic consultation to develop the digital roadmap for Strategic Industries in line with performance indicators of Oman 2040 Vision and identification of essential PPP and Privatisation opportunities in the target industries and focus areas.
Omantel will engage research and tertiary institutions on potential collaboration opportunities to test 5G radios and possible applications that can benefit from the high speeds and low latency provided by 5G.
Sheikh Talal bin Said Al-Maamari, CEO of Omantel, said, "We are proud of the trust that the Ministry of Finance has placed in us and to be selected as the telecom partner in this crucial project. As the first operator to deploy 5G network in Oman, we are committed to using our experience and expertise to further enable research and support a variety of projects with our partners in addition to building the capacities of our youth."
Ericsson will provide 5G and IoT expertise and conduct workshops, followed by field testing and hands-on experience to equip Omantel engineers with critical competencies in designing and operating a 5G network. The program will also be supported an online portal with educational materials in the digital field targeting school students in the Sultanate.