GEMS Education Leverages Microsoft Solutions to Drive Transformation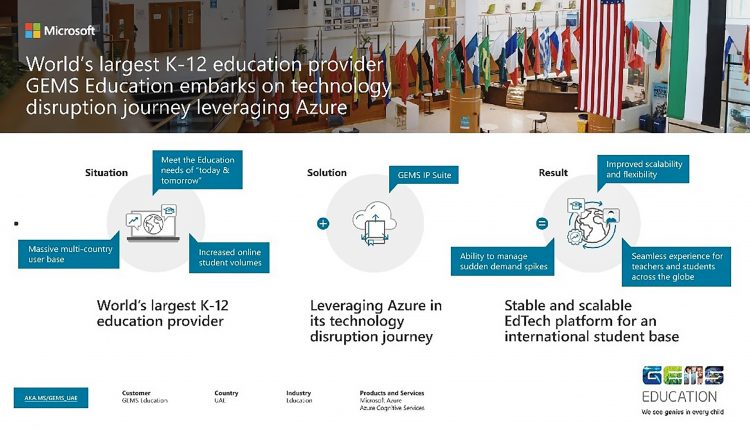 GEMS Education continues to strengthen its relationship with Microsoft as a trusted cloud partner. Through Microsoft Azure services, GEMS is ensuring that its students and teachers remain connected and continue to learn and make progress to the full extent in the post-pandemic era.
GEMS Education's three-year technology transformation journey consists of executing multiple strategic initiatives, segmented across three phases: "Fix the Fundamentals" in FY18/19, "Strengthen the Building Blocks" in FY19/20, and "Accelerate Disruption and Incremental Value Creation" from FY20 onwards.
"As part of its technology disruption journey, GEMS Education has developed its own suite of IP products and solutions, including Phoenix RISE, an end-to-end school management platform; Classroom, an advanced learning management system; and HSE, a health and safety and child safeguarding system, among others," said Krishnan Gopi, Group Chief Disruption Officer, GEMS Education.
"The pandemic took the global education system by surprise, but we were among the frontrunners in adopting remote learning thanks to our in-house developed products and solutions. With a continued focus on developing technological breakthroughs in EdTech products and service offerings, which will shape the future of education, we are now entering the next phase of our IP journey, where we plan to further strengthen our relationship with Microsoft as a trusted cloud service partner."
GEMS Education, one of the global education industry's largest Microsoft users, leverages Microsoft services to support more than 230,000 students, teachers, parents, and administrative staff.
"Cloud has become a catalyst for change in the new normal, especially in critical sectors like education," said Ahmed Ameen Ashour, Regional Educational Director, Microsoft UAE.
"Our long-term commitment is to ensure continuous learning in the UAE by empowering students and teachers to enhance their digital experiences. Through our UAE data centres, our collaboration with GEMS will focus on empowering students, teachers and school leaders with robust connectivity and engaging classroom experiences, to drive improved learning outcomes for the 21st-century student."