Huawei Partners with Moro Hub to Launch Open Cloud
Moro Hub's Open Cloud with Huawei to empower government and enterprise clients with end-to-end secure, flexible and reliable managed cloud services to accelerate their digital transformation journey.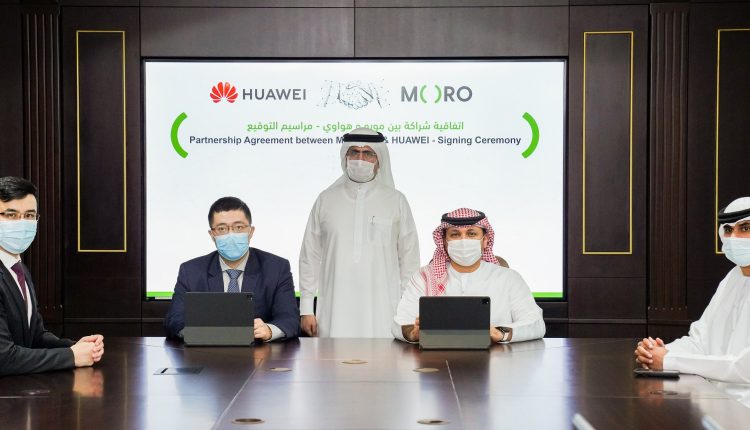 His Excellency Saeed Mohammed Al Tayer, MD & CEO of Dubai Electricity and Water Authority (DEWA), witnessed the signing of a collaboration agreement between Moro Hub (Data Hub Integrated Solutions), a wholly-owned subsidiary of DEWA, and Huawei, a multinational technology company, to launch the multi-tenant Huawei Cloud Stack hosted in the UAE at Moro's Green Data Centre, the first of its kind in the Middle East.
The newest developer-friendly, secure, and resilient Cloud Platform provides a range of futuristic managed cloud services with multi-availability zones while contributing to the sustainability objectives of governments and Enterprises. The agreement was signed by Eng. Marwan Bin Haidar, Vice Chairman of Moro Hub, and Jiawei Liu, CEO of Huawei UAE.
The latest announcement is in sync with Moro Hub's launch of Green Data Centre to invest its efforts in offering the latest technologies and services to its clients yet be a responsible corporate citizen to the environment and its community. The new cloud offering reflects the share vision of both Moro Hub and Huawei to reduce carbon emissions and  enhance environmental sustainability.
The new innovative Cloud Platform will further drive the digital transformation of government and private organisations in the UAE, reinforcing their efforts to upgrade their infrastructure to keep up with the developments of the 4th Industrial Revolution.
HE Saeed Mohammed Al Tayer said, "At Moro Hub, we are committed to the vision and directives of His Highness Sheikh Mohammed bin Rashid Al Maktoum, Vice President and Prime Minister of the UAE and Ruler of Dubai, to make the UAE the world's leading nation, and the Dubai 10X initiative, which mandates the Government of Dubai to Position Dubai 10 years ahead of all other cities. Moro Hub's vision is to be the digital transformation hub of choice. Therefore, its latest Cloud Platform with Huawei provides a full suite of modern, highly scalable and flexible infrastructure-as-a-service (IaaS) system capable of addressing the needs of prospective clients. CIOs are now seeking to extend their application capabilities by leveraging cloud-native and developer-friendly features with such unique platforms."
"Moro Hub aims to help its clients in their sustainability initiatives to reduce their carbon emissions and be carbon neutral while addressing various market demands through our latest offerings. The New Cloud Platform provides scalability, reliability, visibility, security with predictable costs, and reduced lead time to deploy. We believe this platform will be a great enabler for developers now more than ever, as organizations are looking at modernizing their legacy applications while achieving sustainability goals," he added.
"Our collaboration with Huawei reflects Moro Hub's commitment to leveraging our expertise, capabilities, and alliances to advance the digital society at regional and global levels. With the launch of Moro Hub Open Cloud with Huawei in the new Green Data Centre, we have taken another concrete step to show our relentless initiatives to provide value to our customers and help them contribute positively to the environment," HE Al Tayer said.
The service offers an easy to use self-service cloud portal to manage all cloud services and provides 360-degree visibility into customer's environment with monitoring and reporting. The Cloud Platform meets international standards to ensure business continuity, disaster recovery, and compliance requirements.
Jiawei Liu, CEO of Huawei UAE said, "As we approach the intelligent era, computing power will be a new driver of production, data itself a core asset, and cloud, AI, and 5G the new tools of productivity. Cloud enables open, diverse ecosystems to share successes. Cloud services are the way forward to accelerate digitalisation and intelligent upgrade of government and enterprise organisations alike. We are glad to sign strategic cooperation with Moro Hub to jointly provide fully upgraded cloud solutions that can help them realise their key requirements for the intelligent upgrade."
He continued, "Technologies are playing a crucial role in keeping our society resilient. Our offerings capitalise on the great synergy between our cloud, AI, and 5G. We will work with our partners to help different industries more effectively navigate their digital and intelligent transformations. We will continue to create new opportunities for our customers and more value to our society. Our goal is to support our partners' applications better and help customers do more with their data, creating fertile soil for the intelligent world to flourish."