Huawei Rolls Out CloudCampus 3.0 for Fully Wireless Networks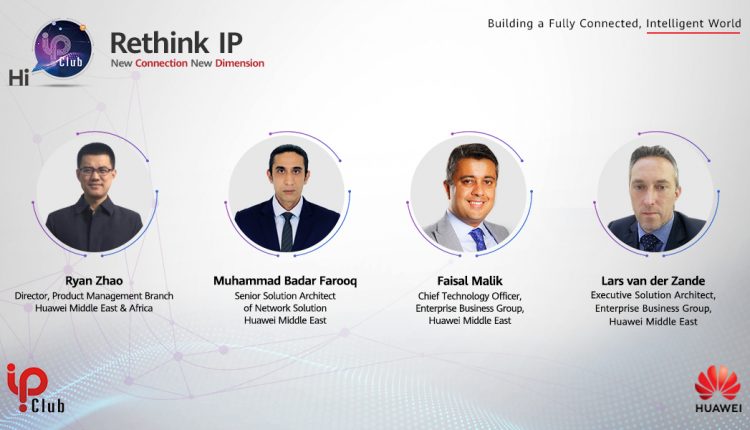 Huawei Tech Investment Saudi Arabia conducted the Huawei Middle East IP Club Carnival 2021 and announced new IP products and solutions for customers across different sectors and ecosystems. The event, which was held virtually, was attended by network technology experts from around the Middle East.
During the virtual event, Huawei rolled out the CloudCampus 3.0 Solution, which delivers a feature-rich solution that combines fully wireless access, One Global Network, Comprehensive Cloud Management and Intelligent O&M of Campus network for enterprise users. Additionally, the new Air Engine Wi-Fi 6 not only delivers the highest performance of 1.6Gbps per user within the industry, but also achieves the exclusive 100M Everywhere; continuous coverage with zero lapses. The Air Engine Wi-Fi 6 plays a key role in encouraging organisations to be innovative by exercising data value and optimising O&M efficiency to ensure stable businesses.
As digital technology is reshaping the world, the campus connects people and objects, integrates machines, substances, and events as one; forming a carrier of work and life, and simulating a solid bedrock of the world for the future of intelligence.
New business models are emerging as digital technology extending from campus to service to production. This event delved into how digital technology can uncover the power of will and innovation, from the three dimensions of business, technology, and ecosystem, leading to paradigm shifts towards digital transformation.
The ultimate objective of intelligent IP network development, with a range of applications — from video and remote working solutions to cloud computing, and AI, is driving a new wave of growth in the network bandwidth. Campus networks are upgrading to Wi-Fi 6 and 100 GE switches, while data centres and IP backbone networks are already heading towards 400 GE supported by Big Data and AI based predictive O&M