IBM cracks AI with world's fastest supercomputer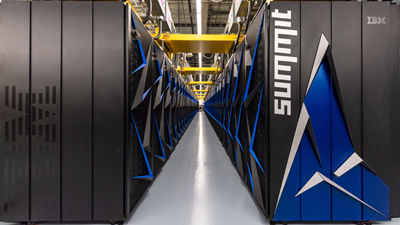 IBM and the US Department of Energy yesterday unveiled Summit – said to be the world's most powerful artificial intelligence supercomputer capable of performing 200 quadrillion calculations per second or 200 petaflops.
Summit is also optimised for AI in a data-intense world. IBM says it has designed a whole new heterogeneous architecture that integrates the robust data analysis of IBM Power CPUs with the deep learning capabilities of GPUs.
IBM claims this project has always been about pushing the boundaries of innovation and technology to solve what was previously unsolvable.  For instance, with this system users can make connections and predictions that will help them advance cancer research, understand genetic factors that contribute to opioid addiction, simulate atomic interactions to develop stronger, more energy efficient materials, and better understand supernovas to explore the origins of the universe.
In Summit's new architecture, compute is embedded everywhere data resides, producing incredible speed and creating a system purpose-built for AI. "By building these supercomputers, we are building the world's leading AI machines," says Hillery Hunter, IBM Fellow; Director, Accelerated Cognitive Infrastructure.
Another radical shift is that Summit is built with components available to any enterprise — this technology is part of IBM's product line, available to accelerate every business.
According to a TechCrunch report, Summit is one of two of these next-generation supercomputers that IBM is building for the DEO. The second one is Sierra, which will be housed at the Lawrence Livermore National Laboratory. Sierra, which is also scheduled to go online this year, is less powerful at an expected 125 petaflops, but both systems are significantly more powerful than any other machine in the DoE's arsenal right now.