INFOR to showcase smart pre-configured cloud solutions at GITEX GLOBAL 2022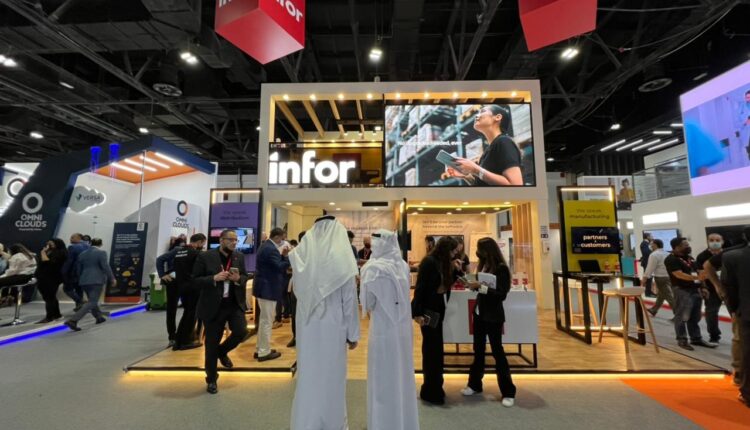 Biggest focus at this year's edition of GITEX Technology Week
At GITEX, we will highlight Infor's industry expertise and the ability of our smart, pre-configured cloud solutions, which feature built-in industry functionality, to enable customers to simplify complexity, transform business processes, accelerate time to value, and put their end users at the centre of the experience.
Infor's solutions work seamlessly with the world-class capabilities of Amazon Web Services (AWS) and give organisations the power and responsiveness they need to stay ahead amid the current challenges of increasingly tough competition, global inflation, and supply chain issues.
Event's theme of 'enter the next digital universe'
Organisations are under increasing pressure to embrace digitisation, but it is no mean feat. Many organisations are confused about how to transform, and even what transformation means. We're here to help our customers in the industrial manufacturing and distribution sectors 'enter the next digital universe' by guiding them on a journey of comprehensive transformation. Indeed, digital transformation is about taking a full analysis of your organisation and understanding what you want to achieve, followed by a journey of continual innovation.
Infor's software is helping to drive this type of holistic innovation in manufacturing and distribution by connecting organisations to their customers, supply chain network, plant and equipment, which enables employees to drive predictable revenues. By embracing powerful cloud-based software and a culture of continuous innovation, organisations can turn many of their current challenges into advantages, bringing simplicity where there was complexity, gathering and using data to maximum effect, and enhancing their ability to work in tandem with suppliers and partners.
Technology domain
Infor specialises in industry-specific cloud software solutions to help industrial manufacturing and distribution customers in the Middle East to automate and simplify complex systems and prepare for the future.
Infor is a global leader in business cloud software specialised by industry. We develop complete solutions for our focus industries. Infor's mission-critical enterprise applications and services are designed to deliver sustainable operational advantages with security and faster time to value.
Innovations to help customers future-proof their businesses
Infor is continually innovating its industry-specific cloud solutions. In fact, one of the major advantages of cloud-based software is that it can be continually enhanced and updated for customers. Infor learns from thousands of customer deployments, gathering data, knowledge and insights on the challenges faced by companies operating in specific industries. This deep understanding of the industries we serve is fed back into our software, which helps our industrial manufacturing and distribution customers in the Middle East.
Using our software, organisations in industrial manufacturing and distribution can transform the way they manage their supply chains, business processes, assets, goods and services, and their people — all in one integrated, intuitive solution.
Future Plans
Infor will be announcing our next release of Infor Process Intelligence which will provide modelling capabilities, which will allow our customers to add new, needed business processes.  In the Middle East we will continue to maintain our focus on helping industrial manufacturing and distribution customers transform. However, we are working hard to expand our network of partners in the region, which will enable us to help even more customers transform their operations. We already work with a number of strategic partners in the Middle East who help to market and implement Infor solutions. In the next 18 months we plan to expand our channel partnerships in key markets including the GCC, Turkey, South Africa, and Egypt.
For any additional information please visit our social media on below mentioned links –
TWITTER https://twitter.com/Infor
LINKEDIN https://www.linkedin.com/company/infor/
INSTA https://instagram.com/infor
FACE BOOK https://www.facebook.com/infor/