KPMG and Oracle Partner to Accelerate Saudi Arabia's Digital Economy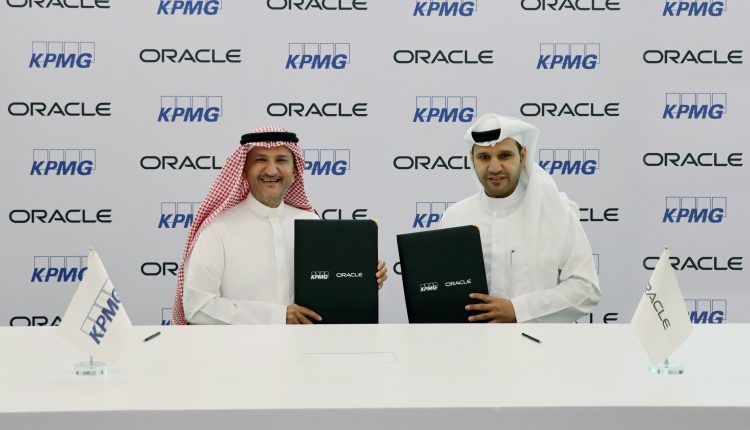 KPMG, the leading provider of audit, tax and advisory services in Saudi Arabia, signed an agreement with Oracle to accelerate the adoption of cloud based emerging technologies in the Kingdom of Saudi Arabia to support the growth of country's digital economy in line with Saudi Vision 2030.
Under this initiative, Saudi organisations across public and private sector or from the start up community that are already on a digital journey and are keen on exploring the impact of cloud led digital transformation across their businesses, can now benefit from the joint capabilities of KPMG's Insights Centre and Oracle Innovation Hub in Riyadh. The agreement was signed by Dr. Abdullah Al Fozan, Chairman, KPMG Professional Services and Fahad Al-Turief, Vice President and Country Leader, Oracle Saudi Arabia.
Dr. Abdullah Al Fozan, Chairman, KPMG Professional Services, said, "The pandemic has accelerated efforts of digital transformation, in a space that was already evolving at a high pace. This is the right time to invest more in the digital ecosystem and forge relationships to be stronger and more efficient together. This partnership will encourage innovation and attract more international investment into Saudi Arabia, thus be a catalyst for job creation. We are excited to offer the joint capabailities of KPMG Insights centre and Oracle Innovation Hub to our customers."
This collaboration will offer organisations in Saudi Arabia access to KPMG's expertise in helping companies kickstart a culture of innovation using service design and latest cloud led technologies from Oracle Cloud Infrastructure including Artificial Intelligence (AI), Internet of Things (IoT) and Machine Learning to initiate customized digital transformation to meet specific objectives.
"There are several trends pushing business—across all industries—toward the cloud in Saudi Arabia and around the world. For most organizations, the current way of doing business might not deliver the agility to grow or provide the platform or flexibility to compete," said Fahad Al Turief, Vice President and Country Leader, Oracle Saudi Arabia.
"The adoption of emerging technology was already on the rise in Saudi Arabia as organisations realised that they could achieve higher ROI, explore new avenues of growth, drive innovation, deliver new services, save costs and ensure robust cyber security with cloud. Our collaboration with KPMG will further support the digital transformation efforts of Saudi organisations as they explore newer ways of supporting customers, deliver vital citizen services and ensure business continuity," added Al Turief.
KPMG and Oracle Saudi Arabia executives will also organise joint seminars, virtual events and sessions with global experts to highlight best practices, discuss case studies and offer guidance on digital transformation initiatives under this initiative.
The KPMG Insights Centre, established in the firm's head office in Riyadh in 2020, is playing a key role in the development of digital talent and transformation for the Saudi workforce.  The Centre is part of elite global network of 20 centres that equips KPMG to leverage on the latest technologies in the field of advanced visualization and data analytics.
In 2019, Oracle opened a first of its kind innovation hub in Riyadh dedicated to the implementation of emerging technologies in Saudi Arabia. Over the past few years, the Oracle Innovation Hub has initiated numerous mentorship and training programs, expert workshops with the Kingdom's leading public and private sector entities to help them explore the true impact of digital technologies for the success of their organization.
In a recent report by KPMG, the CEO Outlook, it was stated by a survey among executives that unprecedented circumstances hit by Covid-19, digital transformation has become a pressing necessity rather than a long-term aspiration, as it will help countries and businesses alleviate the impact of economic crisis. Most importantly, Saudi's ambitious digital agenda will ensure sustainability and growth beyond the crisis.
With the rapid adoption of Oracle Cloud in the Kingdom of Saudi Arabia and the wider Middle East, Oracle is planning a second Cloud Region in Saudi Arabia (the first is in Jeddah) and second one in UAE (the first is in Dubai). This represent Oracle's commitment to the Gulf region, a part of the world that's been underserved by other cloud vendors. Oracle is the first public cloud vendor with a cloud region in Saudi Arabia.
Leading Saudi organisations including Ma'aden, Saudi Railway Company (SAR), Saudi Ground Services (SGS), King Abdullah International Medical Research Centre (KAIMRC), Arabian Centres Company and many more are driving major digital transformation with Oracle Cloud.