ManageEngine's 11th Middle East User Conference Focuses on the Future of Digital Enterprises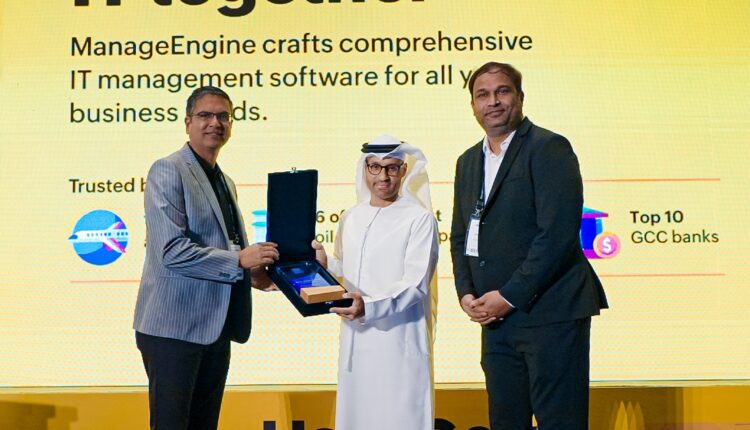 ManageEngine, the enterprise IT management division of Zoho Corporation, announced the successful conclusion of its recent 11th Middle East user conference, held at The Ritz Carlton, Dubai International Financial Centre.
The conference was one of the largest customer events worldwide for the company, which celebrated its 20th anniversary, and brought together customers and partners from across the region.
The two-day event opened with a keynote by ManageEngine president Rajesh Ganesan, who focused on the future of work in the digital enterprise, and a presentation by Chad Routh, principal analyst at Forrester.
"While the expectation is that technologies like AI, edge computing and extended reality will make future work efficient and optimal, making this technology itself work presents a big challenge for business leaders. ManageEngine's mission is to address this challenge with a full-stack platform that inherently offers AI, ML, analytics, search, workflows, orchestration, and low code extensibility across the entire stack," said Ganesan.
Routh highlighted future fit technology and demonstrated how it enables organisations to reconfigure business structures quickly to ensure their capabilities meet future needs.
"Technology executives are realising that value creation is more important than many of the IT metrics that they have been focusing on all these years. They have discovered that to become a successful modern enterprise—being more adaptive, creative and resilient—they must first shift their focus from cost efficiency to business value effectiveness. Forrester calls this a Future Fit Technology strategy. Regardless of your current IT maturity levels, getting the right partners and platforms in place—focused on delivering business value—will help accelerate your organisation's success," Routh remarked during his presentation.
His Excellency Dr. Mohamed Al Kuwaiti, head of cybersecurity, United Arab Emirates government, addressed the gathering on the second day of the event.
Platform for Sharing Technical Expertise
Participants attended technical workshops on a range of domains such as IT security, identity and access management, IT service management, IT operations management and unified endpoint management. The event also provided attendees with a platform for networking with their industry peers and one-on-one meetings with company leaders.
"ManageEngine has listened to our requirements over the years and has proven its commitment by continuously enhancing its products and improving the customer experience. The conference gave us direct access and quality time to interact with both the technical and leadership teams of the company. Sharing our experiences and challenges with industry colleagues, as well as being able to attend the workshops, was invaluable," said Jason Ahluwalia, director of global IT services, Kerzner International.