OPPO unveils Reno smartphone series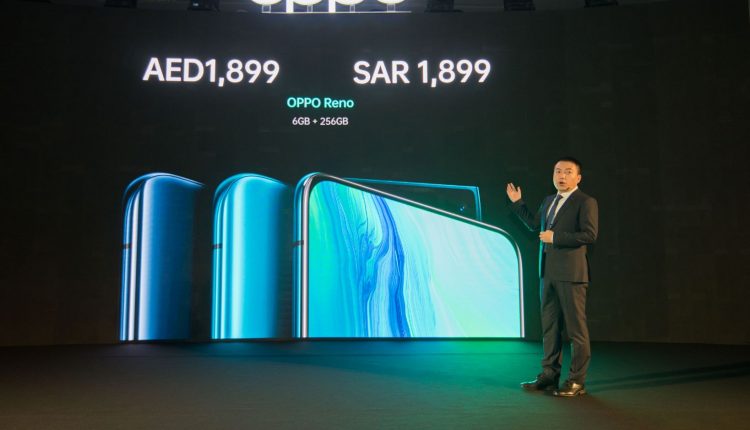 Only days after the official global unveil, OPPO has officially launched its newest smartphone series, Reno, in the Middle East. The company selected Dubai as the location for the premium series' first international launch, emphasizing the strategic importance of the region to OPPO's global brand strategy. 
The Reno series includes two new smartphones: OPPO Reno 10x Zoom Edition and the Reno Edition. Both are stunningly designed, with notch-free full view OLED displays, a breakthrough side-swing, pop-up selfie camera, and powerful hardware capabilities. Reno version will be available for pre-order in the UAE starting April 17 and Saudi on April, 18th. Sales beginning from April 22nd in UAE and April, 25th in Saudi. The OPPO Reno Edition will be available in 6GB RAM + 256GB storage option at AED 1,899 in UAE and SAR 1,899 in Saudi Arabia and the price and available date of OPPO Reno 10x Zoom in an 8GB RAM + 256GB storage version will be revealed later. Customer can also opt to purchase the new OPPO devices from Etisalat with its smart pay plans up to 24 months.
During the unveil, OPPO also announced a new "OPPO MEA 5G Landing Project" with regional carriers Etisalat and Zain. The project will further enhance 5G development in the region after the first 5G smartphone commercial co-test from both parties earlier this month. The company's global 5G Landing Project is a proposed initiative by OPPO and leading global carriers aimed at bringing 5G products and services to users as soon as possible. To bring true 5G experiences to users, OPPO is committed to working with industry partners including carriers to jointly accelerate the development of 5G.
Speaking at the launch, Andy Shi, President of OPPO Middle East & Africa, said: "Reno represents the evolution of OPPO; it features a brand-new design concept, philosophy, and communication model. This is a smartphone for the people who want to make waves, for the dream-chasers and the trendsetters who value style, innovation, and premium functionality", he also added "The UAE is also home to a blossoming 5G ecosystem, with collaboration with leading carriers like Etisalat and Zain users could experience 5G at the earliest."