Pure Storage Expands Design Partnership with VMware
As a lead design partner for VMware Cloud Foundation, VMware vSphere Virtual Volumes and Cloud Native Storage, Pure enables customers to further optimise their data centre and cloud resources.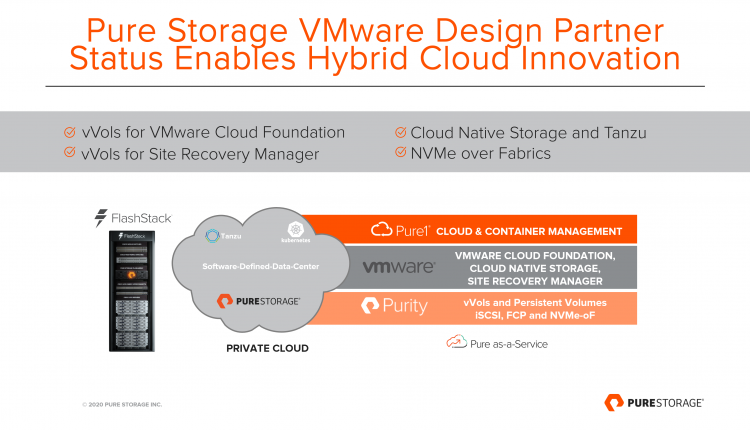 Pure Storage has announced a spectrum of enhancements to its hybrid cloud solutions across the VMware portfolio, enabling any enterprise to focus on innovation rather than infrastructure.
With a partnership built up over a decade, Pure has invested in VMware solutions since its inception. Together, the two companies deliver the platforms that customers need to virtualise their environments, quickly consolidate workloads, host mission-critical applications, and accelerate application modernisation with persistent storage for containers on-premises or in the cloud. This partnership is expanding and enabling Pure to accelerate hybrid cloud deployments as a leading VMware Design Partner on key technologies including vSphere Virtual Volumes with VMware Cloud Foundation and VMware Site Recovery Manager, Cloud Native Storage for Kubernetes on VMware, and NVMe over Fabric.
New solution enhancements from Pure help enterprises maximise their VMware investments, delivering agility and efficiency for modern applications across on-premises and cloud environments. Customers will have improved availability of their data services, enabling them to meet demanding Service-level Agreements (SLAs).
"More than ever, enterprises need to maximise their technology investments to bring simplicity to their cloud operations and infrastructure," said Vaughn Stewart, Vice President, Technology Alliance Partners, Pure Storage. "By providing automated data services to applications in virtual machines and containers, Pure helps customers gain a Modern Data Experience with their VMware hybrid clouds."
"Pure is an important design partner for VMware," said Lee Caswell, Vice President, Marketing, Cloud Platform Business Unit, VMware. "Our mutual customers benefit from how we simplify the deployment of all-flash storage in VMware Cloud Foundation, while Pure's role in VMware Virtual Volumes (vVols) simplifies the management of modern software-defined data centres. We look forward to delivering NVMoF solutions to market that will reset the bar on performance for modern applications."
Solutions designed to accelerate hybrid cloud deployments and optimise customers' VMware investments include:
vSphere Virtual Volumes as principal storage for VMware Cloud Foundation. VMware and Pure enable vSphere Virtual Volumes as Principal storage for VMware Cloud Foundation. Customers can now realise the value of Pure Storage and vSphere Virtual Volumes natively within VMware Cloud Foundation. FlashStack delivers the performance, availability, and economics required for a VMware Cloud Foundation hybrid cloud in a single architecture, with the simplicity of integrated application to infrastructure management.
Support for vSphere Virtual Volumes storage with Site Recovery Manager. Modern data protection is a critical component for any VMware deployment including those leveraging vSphere Virtual Volumes on Pure. For VMware infrastructure, VMware Site Recovery Manager provides an enterprise solution for automated disaster recovery. As the leader in vSphere Virtual Volumes storage, Pure co-engineered the integration of vSphere Virtual Volumes with SRM. This allows enterprises to consume vSphere Virtual Volumes on Pure while protecting their mission critical applications from disaster.
VMware Tanzu and container integration. Pure is a VMware Design Partner for the Cloud Native Storage and vSphere Virtual Volumes programs, providing persistent storage that enables true hybrid cloud mobility for containers running on VMware. Cloud Native Storage and vSphere Virtual Volumes enable workloads in Kubernetes environments to utilise Pure FlashArray as CSI-compliant persistent storage, bringing world-class all-flash performance and data services to containerised applications in addition to VMware vSphere environments.
NVMe-oF with vSphere 7. Pure is VMware's Design Partner for modern data fabric support on vSphere. With vSphere 7, VMware and Pure have worked to provide native end-to-end support for NVMe over Fabrics (NVME-oF) using Pure's DirectFlash Fabric. NVMe is a revolution in the storage world, providing lower latency and higher throughput than legacy SCSI devices. This capability unleashes the raw performance of the Pure FlashArray and maximises performance density in the data centre. Mutual customers can enjoy a modern data experience that maximises the performance and consolidation of critical applications, VMs, and containers.