Ring signs up Sharaf DG as retail partner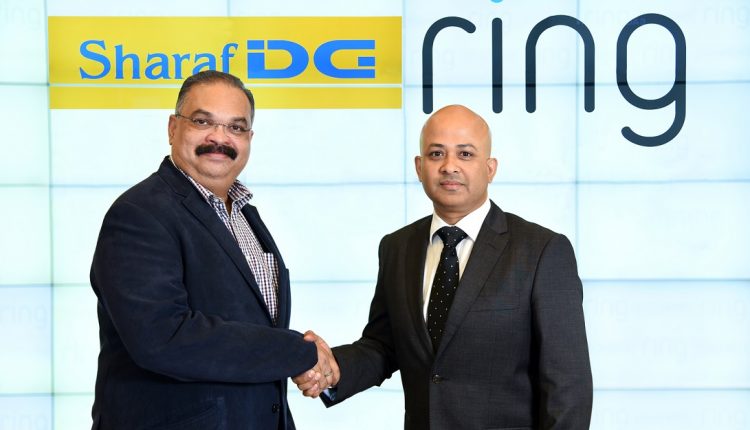 Ring has announced partnership with Sharaf DG that allows the retailer to promote and retail Ring's innovative home security products and solutions in their stores and at their in-store Solution Bars. This collaboration will give customers the opportunity to experience the Ring products first hand and to learn about its features and benefits via demos.
Commenting on the partnership, Mohammad Meraj Hoda, Vice President of Business Development – Middle East and Africa at Ring said, "Sharaf DG is a trusted and reputed retailer with a wide store footprint and customer reach in the UAE with well-executed experience zones and trained staff and we are confident of their capabilities in best in class retail execution for Ring's range of the products and solutions."
Sharaf DG will retail Ring's suite of smart home security products including Ring Video Doorbell 2, Ring Video Doorbell Pro, Video Doorbell Elite, Ring Floodlight Cam and the new Ring Spotlight Cam Battery. Sharaf staff will also conduct live demos for customers to touch and feel Ring's solutions for home security.
"Innovative product companies like Ring should focus on building a brand inside physical retail stores which still contribute to over 92% of all retail sales. Our Solution Bar has proven a successful marketing media tool to many brands with a promise of at least 5 times return on investment (ROI) of marketing dollars," said Nilesh Khalkho, CEO of Sharaf DG.
"Ring believes in keeping homes and communities safe rather than just comfortable, and we hope to change the way homeowners view security by keeping an eye on their family and property, even when they can't. Ring re-imagined the doorbell so consumers could respond – using a smartphone – to someone at their front door from anyplace, anytime while simplifying the technology with the combination of App, Cloud and Security hardware," added Hoda.
"Historically, customer experience around product discovery for startups and new vendors was limited to product videos and reviews online, but with the Solution Bar, they can discover innovative products including those from crowdfunding platforms exclusively inside Sharaf DG stores. Our customers can touch, feel, understand the story behind the product and the benefits before they buy. We welcome Ring, one of the most innovative products to Sharaf DG and I am sure Solution Bar will be a success for Ring and help them understand consumers from across the world," concluded Khalkho.