Smartworld and Honeywell partner for smart buildings in UAE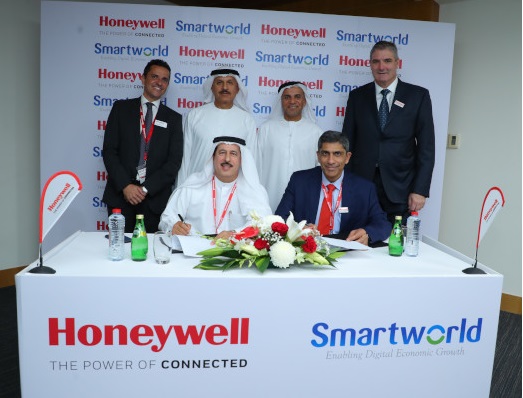 UAE systems integrator Smartworld has signed a Memorandum of Understanding (MoU) with Honeywell Building Solutions, to implement smart buildings in the UAE. This non-exclusive MoU was signed at the Intersec security expo and will enable Smartworld customers to benefit from Honeywell's end-to-end, integrated and IoT-enabled solutions.
Under the agreement, Smartworld and Honeywell Building Solutions will collaborate to promote joint initiatives enabling building operators, facility managers, consultants and contractors to build greener, safer, more secure buildings.
"By partnering with a technology giant such as Honeywell, Smartworld is able to significantly enhance the capabilities of our buildings by turning them into strategic assets that operate more efficiently. Through advanced technology solutions, we are able to create a positive experience for the citizens of the UAE through smarter and digitally transformed services that meet the demands of today's consumers," said Abdulqader Obaid Ali, CEO of Smartworld. "We are looking forward to accelerating the UAE's smart city offering through this partnership, and as such, supporting the county in meeting its smart city ambitions."
Honeywell Building Solutions will expand its technology base and provide advanced solutions including Building Management Systems (BMS), Enterprise Buildings Integrator (EBI), advanced security solutions, fire safety systems, industrial security systems, and Honeywell's Command and Control Suite (CCS), all modelled to create safer and more secure buildings and cities across the UAE.
Vimal Kapur, president and CEO, Honeywell Building Technologies added: "Our partnership with Smartworld reaffirms and demonstrates another example of our commitment to the UAE government's goal of developing smarter cities. We are pleased to be working with such a visionary organization. Smart buildings are the fundamental building blocks of a smart city, and this agreement will enhance the country's efforts in developing the smartest cities in the region."