TONOMUS teams up with Oracle and NVIDIA to boost AI Adoption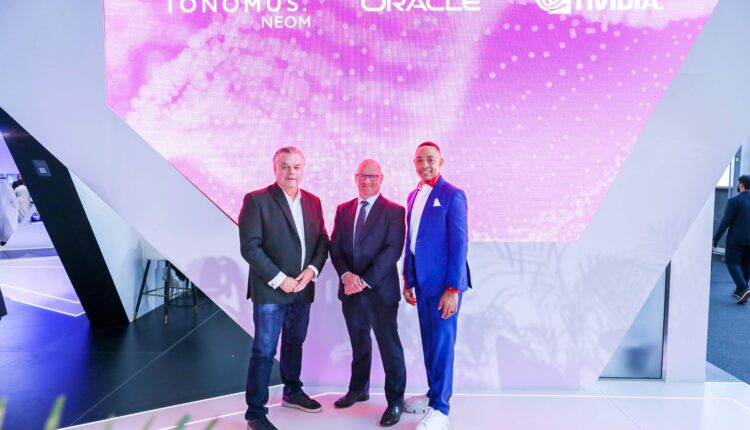 TONOMUS, the cognitive multinational conglomerate and the first company to be established as a full-fledged subsidiary of NEOM, today announced a collaboration with Oracle and NVIDIA at LEAP23. The collaboration is aimed at boosting the delivery of groundbreaking AI capabilities across NEOM and Saudi Arabia.
The collaboration is designed to accelerate AI-powered innovation for a broad range of use cases by enterprises and government organisations. TONOMUS will provide customers with direct access to NVIDIA's advanced AI, digital twin solutions that take advantage of the planned Oracle Cloud Region to be located at NEOM, hosted by ZeroPoint DC hyperscale data centre and via TONOMUS' digital cloud platform.
Joseph Bradley, CEO of TONOMUS, said: "The longstanding alliance between Oracle and NVIDIA complements TONOMUS' ongoing mission to build the infrastructure and ubiquitous connectivity required to enable the world's first ecosystem of cognitive technologies. This monumental collaboration will empower NEOM with geographical advantage and place Saudi Arabia firmly on the map as a regional hub for the provision of AI capabilities, as well as further support Saudi Vision 2030 and the Kingdom's rapidly developing cloud market."
Richard Smith, Executive Vice President, Cloud & Technology, EMEA of Oracle, said: "The futuristic city of NEOM is the ideal ground for deploying the latest AI-powered applications and customer experiences, which will help usher in a new era of smart cities.  TONOMUS will benefit from Oracle Cloud Infrastructure's (OCI) unmatched capability of supporting modern cloud native applications in a secure environment. This, coupled with our existing partnership with NVIDIA, will speed AI adoption for enterprises."
Jaap Zuiderveld, Vice President of EMEA at NVIDIA, said: "AI and accelerated computing in the cloud enable cities around the world to improve sustainability and livability, enhance the safety and efficiency of urban mobility, and deliver more inclusive citizen experiences. NVIDIA software and systems on Oracle Cloud Infrastructure provide an ideal platform for developers like TONOMUS to build AI-forward, modern cities."
Users of TONOMUS' seamless, cloud management platform, which combines cloud sales and management with a user-friendly digital interface, will draw a range of valuable benefits from the company's collaboration with Oracle and NVIDIA. In addition to curating access to the world's top cloud service providers, the platform allows users to search for and compare a wide range of options, capabilities and costs in real time, and then purchase and manage solutions.
It also facilitates cost monitoring, resource optimisation and visibility, centralizes customer management of multiple cloud assets and costs, and is an asset to finance and accounting departments in accessing information on historic and projected costs based on consumption.
OCI's comprehensive set of public cloud services and NVIDIA's accelerated computing stack – from GPUs and networking to software – combined with OCI's AI cloud infrastructure of bare metal and RDMA cluster networking and storage, will provide NEOM-based enterprises with a broad, easily accessible portfolio of options for AI training and deep learning inference at scale. The availability of the globally adopted NVIDIA AI platform will grant businesses that make NEOM their home the benefits of essential processing engines for each step of the AI workflow, from data processing and AI model training to simulation and large-scale deployment.
The venture will be propelled by technology such as the NVIDIA A100 Tensor Core GPU and the upcoming, NVIDIA H100 – the most advanced accelerator ever produced and an order-of-magnitude leap for accelerated computing. Its combined innovations can speed up large language models by an incredible 30 times over the previous generation to deliver industry-leading conversational AI.
Early adopters of the technology will also be able to enjoy various opportunities, allowing large corporations across a range of industries – from healthcare and manufacturing to telecommunications and financial services – to reduce their IT infrastructure costs, automate operations and obtain insights faster than ever before.
The strategic partnership between TONOMUS and Oracle has been steadily expanding since the company was named as the first tenant at ZeroPoint DC in October 2021.