VeeamON Tour Back in Riyadh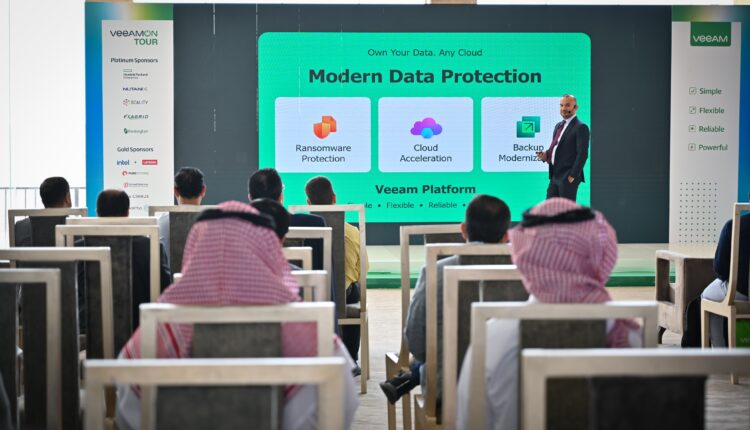 Veeam Software hosted 200 registered attendees, customers, partners and industry experts at its VeeamON Tour in Riyadh, Saudi Arabia recently. The event at Al Ammariyah Hills Resort connected leading IT experts and visionaries throughout the region to share and learn about the hottest topics in the market, including Modern Data Protection, ransomware, native cloud and Kubernetes.
Mohamad Rizk, Regional Director, Middle East & CIS at Veeam Software who presented the keynote address entitled 'The Future to Modern Data Protection' said, "With the current digital transformation trend and emergence of the hybrid workplace, cloud, virtualisation, Kubernetes and SaaS have all seen rapidly growing adoption by regional enterprises in the Middle East. They are seeking to bring flexibility, scalability, simplicity and cost benefits into their IT infrastructures by moving away from legacy data center architectures. As such, they recognise how vital it is to have a comprehensive strategy that embraces and protects vital data across all these environments. Eliminating data protection gaps, engaging automation, and moving to an autonomous system reduces risks, improves productivity, and creates robust business continuity."
Product Innovation
"With increasing threats from ransomware attacks and data security challenges relating to multi-/hybrid-cloud architecture adoption, we, as a community, have rallied together to deliver the most robust solutions to our customers. Veeam provides a single platform for all data environments. Ensuring data security, protection and integrity is deeply rooted in our DNA and our continuous technology innovation has helped us reach the status of being the #1 provider in EMEA during 2H'21 in IDC's DR&P market. VeeamON Tour Riyadh has been an excellent forum to showcase all our innovations that will help customers drive business efficiency and agility, protect their data, and ensure that they are well prepared for the next stage of their digital transformation. Our software-defined approach means there is no lock-in to proprietary hardware and works with our customers' existing architecture, both on-premises and in the cloud."
"Entire industries face a data protection emergency and businesses are looking for ways to accelerate their strategies to protect data, remediate cyber-attacks and recover from systems outages. Companies who succeed in accelerating their adoption of a Modern Data Protection strategy will put in place solid foundations to gain competitive advantage from digitisation. It will enable them to experience the lower cost points and flexibility of public cloud, leverage the security and proximity of private cloud, and fast-track their development cycles by deploying Kubernetes, with the assurance that their data is protected across their entire infrastructure. Organisations should also understand that they can be vulnerable to vendor lock-in due to exponential business growth with the data protection requirements that once worked before now being, outdated and no longer viable to their current business model. Data protection solutions, like in the case of Veeam, should be flexible and scale with the customers' business without the extra cost of vendor lock-in or complexity," said Mohamad Rizk.
VeeamON Tour attendees were given a demonstration of Veeam's latest technologies including:
Veeam Backup & Replication v12 – the latest version of the award-winning backup solution that is at the epicentre of the future of modern data protection. New capabilities introduced with V12 will include:

Backups going direct to object storage and cloud-based agents are also available as cloud-accelerated features
With immutability everywhere, ransomware can be recovered and threats against cyberattacks can be stopped even faster; Improves efficiency at scale with additional enterprise application support and innovations
A new Veeam Backup & Replication plug-in for Kasten by Veeam K10 V5.0 provides visibility and management for Kubernetes data protection.

Veeam Backup for Microsoft 365 v7
Newly launched Veeam Backup for Salesforce
Kasten by Veeam K100, the most complete enterprise data management solution to date purpose-built for Kubernetes; and cloud-native solutions (for AWS, Azure and Google Cloud).
Kubernetes on the rise
The session, 'Kubernetes the Next wave of Infrastructure', provided insights on the growing adoption of Kubernetes, the de facto platform for orchestrating containers today. According to findings of the Veeam Data Protection Trends Report 2022, 69% of UAE organisations and 76% of Saudi Arabian organisations are already running containers in production, while 29% and 22% respectively plan to do so in the next 12 months. Containers and Kubernetes have greatly simplified operations for DevOps teams, accelerating the rate at which companies can go to market with new applications and technologies, internally or externally. Kubernetes also enables organisations to create self-healing, highly available applications. As more companies adopt containers and do their orchestration using Kubernetes, the potential attack surface will grow. This is why regional enterprises need to expand their Modern Data Protection strategies with technologies that work against a wide range of Kubernetes application stacks and deployment methods, such as Kasten K10, that completes their ability to protect these new cloud-native workloads and the business growth they support.
The last line of defence against ransomware
The incidence of ransomware is on the rise, regionally, 88% of UAE and 84% of Saudi Arabian organisations fell prey to ransomware attacks in 2021. Against this backdrop VeeamON Tour Riyadh presented 'Ransomware Best Practices for Secure Backup & Recovery'. Attendees discovered how secure backup is an organisation's last line of defence against ransomware and what they can do to counter the need to pay a ransom to recover their data. For businesses in the Middle East to win the ransomware battle, they must do three things – educate their employees, implement the 3-2-1-1-0 backup rule requiring 3 copies of data and have a remediation plan of a full Backup and Disaster Recovery strategy that gives them the ability to recover data in event of a ransomware attack.
Findings from the Veeam Data Protection Trends Report 2022 that were shared with attendees included the fact that 98% of UAE organisations and 97% of Saudi organisations experienced unexpected outages within the last 12 months and on average, 17% of UAE organisations' and 18% of Saudi organisations' data is left completely unprotected.
Key sponsors of VeeamON Tour Riyadh included platinum sponsors Exagrid, Scality, Nutanix, Redington and Hewlett Packard Enterprise. Gold sponsors included Pure Storage, Defined Solutions, Intel, Lenovo, CT4, Ingram Micro, Alnafitha IT and National Computer Systems Co. (NATCOM).