Infinix launches Note 5 smartphone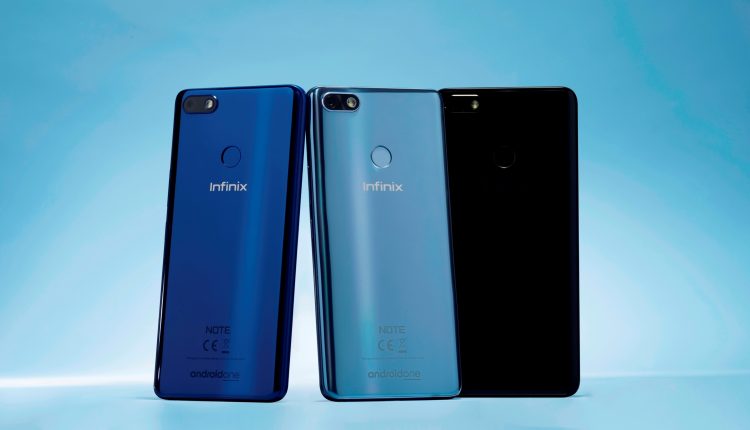 Infinix, a brand owned by Transsion Holdings, has launched its Note 5 smartphone.
Following the global launch in Dubai yesterday, Infinix Note 5, powered by Android One, will soon launch in more than 30 countries. Shoppers in Nigeria, Egypt, India, Kenya, Ghana, Cote d'Ivoire, Morocco, and many other countries will soon be able to get their hands on the new release.
The Note 5 smartphone is equipped with an Infinity 6.0'' FHD+ screen and a 18:9 screen ratio, and features a16MP low-light front camera, which allows selfie lovers to take professional selfies even in low light. As for the rear camera, it is supported by a 12MP resolution.
Infinix says its long-lasting battery will provide 3 days on average usage with a 4500mAh battery, built with a 3A Fast Charge, that will keep users fully functional throughout the day. 
"Targeting trendsetters, and young professionals, Infinix Note 5 comes with a software experience designed by Google, combined with great hardware from Infinix. We empower our users to go beyond the limit with our newest breakthrough technology. All while they enjoy an intelligent lifestyle through the fusion of technology and stylishness. In partnership with Google on Android One, we will provide the young generations with unprecedented mobile experience and revolutionise their mobile life with Note 5," said Benjamin Jiang, Managing Director of Infinix Mobile.
Speaking on the partnership, Arif Chowdhury, Group Vice President of Transsion, said: "As a provider of mobile devices and mobile value added services in global emerging markets, we focus on serving a wide range of consumer groups and we firmly believe that the mobile communication device that has revolutionized social life belongs to everyone. We are pleased to partner with Google to cater to the young generations and present them with an intelligent and trendy lifestyle with the launch of Note 5."
"If you get a new smartphone you expect it to be amazing. That's why we teamed up with Transsion through our Android One program. Together we strive to give users a range of smartphones, such as the Infinix Note 5, that combine beautiful hardware with Google's smartly designed software – from the latest AI powered innovations to the highest grade of security," said Mahir Sahin, Director of Android Partnerships for Africa.
Infinix Note 5 will also support Google Lens – a new way to search what you see and interact with the world around you. You can take action on text, identify distinct plant and animal breeds, learn more about popular landmarks and discover products similar to the ones that catch your eye – like furniture and apparel. The feature will be available right in the Note 5 camera and through the Google Assistant.