NVIDIA Announces New Studio Laptops Powered by GeForce RTX GPUs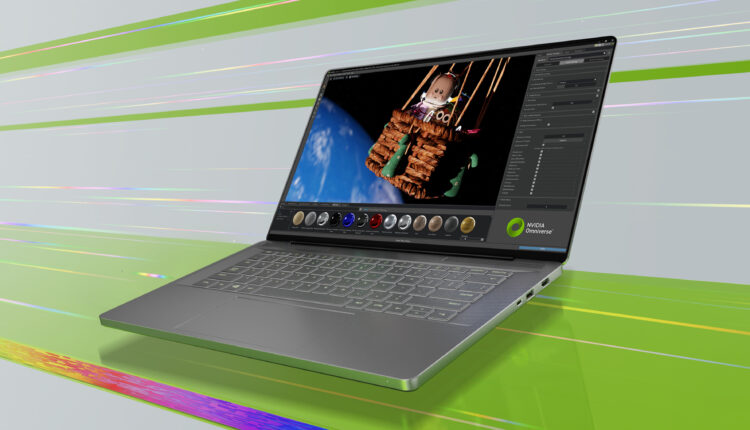 NVIDIA announced the release of new Studio laptops powered by the latest GeForce RTX 40 Series Laptop GPUs. The new models being released by MSI and Razer are the first of many to be launched during the year. Featuring GeForce RTX 4090 and 4080 Laptop GPUs, the new Studio laptops use the NVIDIA Ada Lovelace architecture and fifth-generation Max-Q technologies for maximum performance and efficiency.
Backed by the NVIDIA Studio platform, these laptops give creators exclusive access tools and apps – including NVIDIA Omniverse, Canvas and Broadcast — and deliver breath-taking visuals with full ray tracing and time-saving AI features. All of this is powered by NVIDIA Studio Drivers, which help to optimise design workflows to help render and produce content at unimaginable speeds and framerates.
Creating Content Anywhere
NVIDIA Studio laptops, powered by new GeForce RTX 40 Series Laptop GPUs, deliver the largest-ever generational leap in portable performance and are the world's fastest laptops for creating and gaming. These creative powerhouses run up to 3x more efficiently than the previous generation, enabling users to power through creative workloads in a fraction of the time, all using thin, light laptops — with 14-inch designs coming soon for the first time.
MSI's Stealth 17 Studio comes with up to a GeForce RTX 4090 Laptop GPU and an optional 17-inch, Mini LED 4K, 144Hz, 1000 Nits, DisplayHDR 1000 display — perfect for creators of all types. Meanwhile, Razer is also upgrading its Blade laptops with up to a GeForce RTX 4090 Laptop GPU. Available with a 16- or 18-inch HDR-capable, dual-mode, mini-LED display, they feature a Creator mode that enables sharp, ultra-high-definition+ native resolution at 120Hz. Both models come preinstalled with NVIDIA Broadcast which offers various broadcast and recording techniques, including an Eye Contact feature to make video conference presenters appear as if they're looking at their audience, thus improving engagement.
Collaborating On Creativity
For 3D artists designing in the metaverse, NVIDIA Omniverse provides a new way to quickly work and scale with virtual worlds faster than ever before. It enables ground-breaking new ways to visualise, simulate, and code the next frontier of ideas and innovation. Integrating complex technologies such as ray tracing, AI, and compute into 3D pipelines no longer comes at a cost but brings an advantage to the entire creative process.
By connecting through Omniverse Cloud, creators can engage in real-time animation with instant results, without having to reformat and upload files individually. It also allows for much easier collaboration across multiple designers, making it easy to fetch new content without any interruptions. RTX technologies make it easier to get near-instant feedback on even the smallest changes with full-quality lighting, shadows, materials, and effects.
Omniverse is available to download for free for all NVIDIA and GeForce RTX GPU owners — including those with new GeForce RTX 40 Series laptops.