ASBIS Middle East: Spearheading Transformation
Hesham Tantawi, Vice President ASBIS MENA, reflects on the company's growth story and how ensuring robust supply chain and cash flow management played a critical role in its success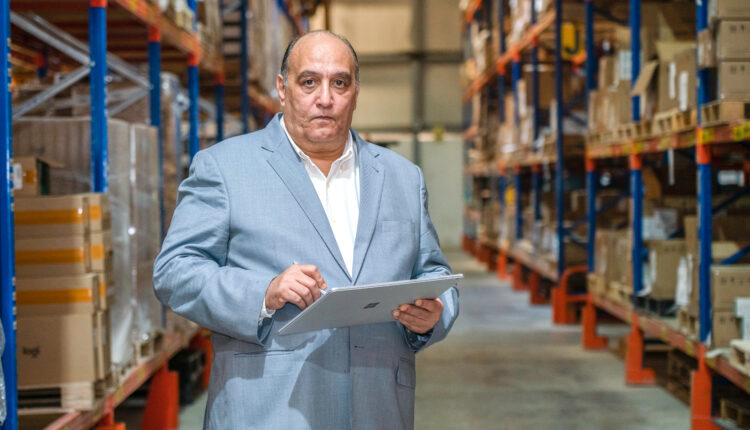 Over the years, the regional IT channel industry has shown fortitude in the face of adversity. While some have fallen victim to the recent economic upheaval, many don't allow external factors to control their success. One such company is the distribution leader ASBIS Middle East, a three-decade old plus firm who has not only stood the test of time but has grown consistently year after year.
Hesham Tantawi, vice president, MENA, ASBIS Middle East, attributes this growth to diligence, having business continuity and diversification plans in place, thinking outside the box and nurturing a growth mindset within the workforce.
Reflecting on the past two years, Tantawi says, "When COVID-19 emerged and impacted the regional market and economy almost overnight, companies were shutting down all around us. However, we did not find it difficult to make the transition to remote work as we had implemented tools like Teams and Zoom three months before the pandemic. Our workforce was well-versed with the conferencing, communication and collaboration benefits these digital technologies enabled. We are licensed from Jebel Ali, where we also have our logistics centre. We did not close our warehouse or stop working even for a single day."
The distributor also ensured to keep the lines of communication open with its key customers and partners and engaged with them online daily through digital platforms. "This way, we could continue extensive conversations without any disruptions. We were attending 10 to 12 meetings every day," he said.
And with time the company saw that moving their operations online was beginning to pay off. "Business was happening smoothly, we were delivering goods on time and meeting our customers' requirements," he adds.
Tantawi admits that the technology industry had it easier than the others as the pandemic restrictions delivered new opportunities.
He explains, "As we were already on digital platforms, we were well-equipped to meet new market demands. For example, as schools had moved to online learning and businesses to remote working, suddenly there was a need for every home to have PCs and cameras to facilitate the new environment.
"Everything in computing was the need of the hour back then and this gave us a chance to take the lead in the market. We worked closely with our vendors to accelerate and ensure the supply line. Our years of expertise in logistics, realistic forecasting for six months ahead and good supply chain management enabled us to procure and deliver goods in the needed time frames. This directly contributed to our sales, and we saw significant growth during the pandemic years."
Revealing that this growth path also had hurdles, Tantawi says, "Of course there were challenges but none that we couldn't address."
The company had faced issues with credit in the beginning, however, through clear communication with customers and partners, it was solved in the first 15 days of the pandemic.
"We extended our credit lines to customers, and this contributed further to our growth."
ASBIS saw significant growth not just in the region but also globally. The company announced its record-breaking financial results for 2021 recently – its sales revenues amounted to $3.1 billion, exceeding the three billion mark for the first time in its history. When compared to its 2020 revenues of $2.4 billion, this was an increase of 30%. At the same time, the distributor announced its net profit doubled to $77.1 million, compared to $36.5 million in 2020.
In the fourth quarter of 2021 alone, ASBIS recorded $948 million revenue, up 10% compared to the same period in 2020. In contrast, the net profit was $28.7 million for Q4, an increase of 34% from 2020.
"Regionally, we grew by 18% in 2019-2020 and by 23% in 2020-2021," adds the distribution chief. "We are aiming to close this year with high double digits as well. Overall, we attribute this growth to ASBIS being a powerful distribution house, specialised in EMEA emerging markets. We are adding new technologies, capabilities, and innovations every year. We make it a point to be ahead of competition and market demand with pioneering technologies and talented resources. We look at distribution as a structured business."
Through robust supply chain and cash flow management, the distributor extensively maps markets and quickly adapts to evolving conditions.
Tantawi says, "We are successful and have long-term operations today because we do not hesitate to adapt as fast as possible to the dynamic market landscape. We boast great relationships with our vendors and is the preferred distributor for every one of them.
"The key to success is planning. If you understand and meet vendors' business objectives, evolving market demands and ensure supply, you can be sure to grow."
Tantawi goes to explain how owing to the pandemic there was a severe shortage of CPUs, hard drives and so on last year. "We were able to grow only because of our strengths in supply chain management. When you plan for six months, you have supplies available to sell every day."
ASBIS' channel partners were also able to leverage the distributor's strengths in supply chain management and catered to customer demands successfully during the pandemic years.
He adds, "We provide extensive training to our channel ecosystem every week. While this was mostly online the last two years, we are now moving back to in-person sessions. We also have certification for our staff – every person of our workforce must complete two training sessions every quarter and get certified. We place a special emphasis on education – this means educating ourselves as well as our partners."
Tantawi further urges partners to embrace education and innovation. "To thrive in today's digital world, it is imperative that partners be first to the market with new technologies and methods of selling and establish clear, stable partnerships."
According to Tantawi, the future looks bright and will be defined by mutual growth for the company and its partners.
He adds, "Our channel partners are a vital part of our success. Over the next few quarters and coming years, the market will see us even more active as we expand our reach and portfolio to new levels. Partners can expect to see deeper support from us, and we look forward to growing together and powering regional customers' digital transformation journeys."