A10 Networks' Partners Energised at Accelerate Affinity Partner Summit 2023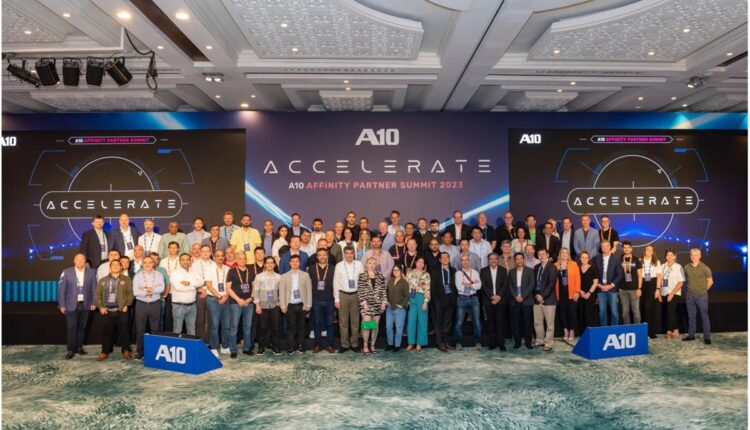 In mid-May, A10 Networks hosted over 100 partners from 23 countries in Antalya, Turkey at this year's Affinity Partner Summit. The company built an agenda around sharing exclusive insights into A10's business and technology innovation while also providing partners networking opportunities and some fun on the side.
It was an honour to have a Turkish government official on hand to welcome attendees to the event from Bilgi Teknolojileri ve İletişim Kurumu Başkanı while also discussing the current Turkish IT infrastructure market. Following that, Vice President, A10 International, Anthony Webb, and A10 International Channel Director, Christopher Martin laid out the company's commercial and channel strategy as well as the 2022 partner dashboard and celebrated last year's successes.
Executive Vice President of Worldwide Sales and Marketing, Matt Bruening, educated the partners on the growth strategy, A10's investment focus, continuous innovation strategies and strategic thrusts. Partners got their first view of the newly launched A10 Next-Gen WAF, powered by Fastly solution and the upcoming security insights service, A10 Defend. Matt also discussed A10's partner go-to-market model focused on providing curiosity and insight and building leverage while sharing in partners' success. CEO, Dhrupad Trivedi, continued discussing A10's company strategy and key initiatives for 2023, as well as the overall A10 differentiators.
Accelerating the Affinity Partner Community
Christopher Martin discussed the importance of A10's channel partner community, sharing the success the partners have had throughout 2022 and the first half of 2023. Elaborating on the year-on-year growth through channel enablement opportunities present and future. Chris touched on the exciting new tools A10 is currently working on to help partners succeed, including product and sales training, marketing materials and collateral.
Delivering New and Emerging Security Solutions
Technology sessions helped educate partners on new and emerging solutions. Senior Director, Product Marketing, Paul Nicholson, CTO Brett Ley, Head of Security Solutions, Elisa Cordero, and guest speaker Stephen Kiel from Fastly, discussed the latest products and solutions offering, including the new A10 Next-Gen WAF, powered by Fastly. The panelists took a deeper dive into the solution and advances while also discussing the evolution of hybrid cloud and challenges around secure application delivery. Finally, the panelists discussed the evolving cyberthreat landscape and how A10 is helping customers advance their security strategies.
Demonstrating Customer Success
Over the two days a variety of customers presented about how A10 has helped them achieve their business objectives. On day-one Fatih Uluçam, Head of IT Infrastructure, Ministry of Health spoke about the challenges his organisation faced with DDoS protection and their inability to analyse SSL traffic. After deploying A10 Thunder Threat Protection System (TPS) the Ministry of Health was able to successfully defend against growing attacks and optimise its security OPEX. On day-two, Samil Can from Doğuş Technology  shared a similar story of dealing with an inadequate legacy DDoS protection solution but after deploying A10 Thunder TPS, the customer was able to protect the application layer against DDoS attacks, overall restoring the trust to its retail customers.
Succeeding with A10
Day 2 of the event focused around educating partners on how best to win with A10. Breakout sessions covered the company's Technical Ambassador programme, Winning with A10, Distribution Insight Business Planning with a Difference followed by an executive meeting with Area VPs, Adrian Taylor and Stephen Dallas.
Sharing Executive Insights
The event featured a panel discussion with CEO, Dhrupad Trivedi, EVP Sales and Marketing, Matt Bruening and VP of ATI, Anthony Webb. A10's partner community had the opportunity to ask questions directly to the panelists and get their perspectives on A10's growth strategies, market insights and what's to come for the company.
Making Time for Networking and Fun
A10 organised white water rafting in the Köprülü Canyon where teams needed to navigate through the rapids to reach the bottom of the canyon. The company also hosted a Gala Dinner and Awards ceremony honouring the successes from 2022.
Globally, partners are key to A10's success in driving better business outcomes of customers. The two-day event in Turkey allowed the company to share its strategy and equip partners with information that will help them serve customers and grow their businesses alongside A10. The company is committed to strengthening and expanding its channel operation, ensuring existing and future partners are successful.