Exclusive: CXO 50 2021 Celebrates Technology Innovators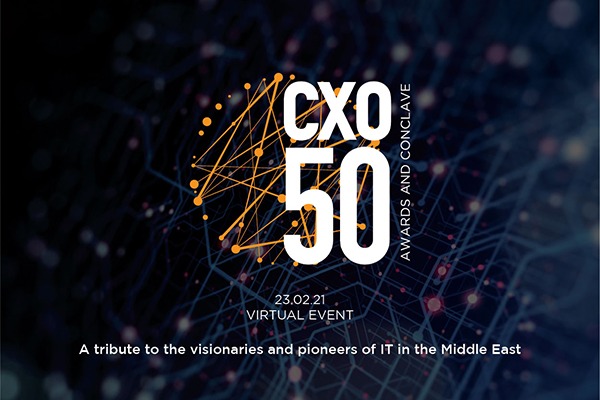 CXO Insight Middle East hosted the third edition of CXO 50 Awards, honouring IT leaders who have led the charge during the crisis to shape the new normal.
Sponsored by Platinum Partner: VMware; Gold Partners: Checkmarx, Fortinet, F5, Micro Focus, Sophos, Software AG and Silver Partners: D-Link, Exclusive Networks, Finesse, VisionTech and Huawei – the CXO 50 Awards was a resounding success.
The live show began with MC Basil Ayass, a technology industry veteran, introducing the day's proceedings. Kelly Latza, Senior Manager, UAE, VMware, presented the keynote address on 'Future Ready with VMware: Respond, Adapt, Accelerate."
She said, "Our mission at VMware is to really be there for our customers and assist them navigate the new world. In rapidly changing and uncertain times, business and technology leadership together will lead organisations towards the future. VMware has mapped out a clear future ready roadmap to helps organisations respond, adapt and accelerate their operations digitally."
Latza's insightful presentation was followed by a thought-provoking and rich panel discussion featuring top technology chiefs from the industry. Moderated by Jeevan Thankappan, Managing Editor at Insight Media and Publishing and CXO Insight Middle East, the panelists included Jassim Haji, President, Artificial Intelligence Society of Bahrain; Vinay Sharma, Group IT Director, Gulftainer; Jayakumar Mohanachandran, Group Head of IT, Easa Saleh Al Gurg and Khalid Rashid Moh'd Jalal, Senior Group ICT Manager, Garmco.
The conversation ranged from several key themes and trends that the industry must prepare for as businesses increasingly embrace digital and cloud strategies. The panellists agreed that digital and smart transformation is a continuous journey and innovation is critical for enabling digital focused initiatives. A key takeaway was that organisations must prioritise technological investments in processes and people to emerge successful in the new normal.
Next up was the technology-focused panel discussion by five top cybersecurity leaders who defined the new normal in terms of cybersecurity innovation in today's evolving landscape.
Moderated by Jeevan Thankappan, Managing Editor at Insight Media and Publishing and CXO Insight Middle East, the panel featured Ajay Nawani, Director Engineering, MEA, Sophos; Yasser Elmashad, Cyber Security Specialist, F5; Fadi Yehia, Regional Director, Dubai, NE, Oman and Pakistan, Fortinet; Bhawani Singh, APAC Principal Solutions Architect, Checkmarx and Mohamed Arafa, Country Manager KSA, Micro Focus.
According to the panellists, businesses will have to invest more on cloud platforms for better employee and customer experiences and collaborations. As hyper-connectivity becomes even more of a must-have, the new normal will drive extreme automation, making cybersecurity a critical element. The main takeaway from the discussion was that security has to be thought of at the beginning of any new deployments or initiatives and organisations must create cyber-resiliency to effectively operate in these changing times.
The high-profile event concluded with the awards ceremony, where an exclusive set of 50 individuals were handpicked by CXO Insight Middle East's esteemed judging panel featuring – Arun Tewary, VP-IT, Emirates Flight Catering; Jassim Haji, President, Artificial Intelligence Society of Bahrain; M N Chaturvedi, Director of IT, Al Shirawi Group and Sebastian Samuel, CIO, AW Rostamani.
The judges selected these innovative and forward-thinking winners based on the impact they have had on their own organisations as well as the industry they work in.
See below for the complete list of CXO 50 Awards 2021 winners:
| | |
| --- | --- |
| Walid Nsouli | Abu Dhabi Department of Education and Knowledge |
| Samir Khan | African & Eastern |
| Hajar AlMaazmi | Ajman Bank |
| Shafique Ibrahim | Al Fardan Group |
| Frank Watts | Al Tayer Group |
| Sreedhar Reddy | Aldar Properties |
| Nithin Geo Thomas | Amity Education |
| Shrikant Kaboor | ARADA Development |
| Shaker AlOwainati | Bahrain Institute of Banking and Finance |
| Madhu Suthanan | Bahri & Mazroei |
| Mubarik Hussain | Bloom Holding |
| Ali Mohamed Al Ali | Department of Health |
| Salem Al Katheeri | Department of Municipality and Transport |
| Arul Jose Vigin | DIFC Courts |
| Anindo Banerjee | Dubai Holding Entertainment |
| Abdalla Al Ali | DMCC |
| Hossam Abbas Barakat | Egypt Gas |
| Shah Room Khan | Emirates College of Technology |
| Bilal Ahmed | Emirates Float Glass |
| Rachid Hamida | Enova |
| Javiera Aijaz | Farnek Services |
| Manish Bhindra | Galadari Group |
| Khalid Jalal | Garmco |
| Mustansir Aziz | Gulf Diagnostic Center Hospital |
| Vinay Sharma | Gulftainer |
| Mustafa Gangardiwala | Industrial Bank of Kuwait |
| Dr Mustafa Qurban | King Fahd Military Medical Complex (KFMMC) |
| Ammar Alhusaini | Kuwait Central Agency for Information Technology |
| Dr Jamal Al Enezi | Kuwait Oil Company |
| Thomas Joseph | Majid Al Futtaim Cinemas |
| Mathew Sheath | Majid Al Futtaim Ventures |
| Ali Al Yafei | Ministry of Education |
| Ali Jassim Ahmed Alaradi | Ministry of Foreign Affairs Bahrain |
| Mufarraj El Hajiri | Ministry of Interior, Kuwait |
| Ahmed Mohammed Hasan Buhaza | Ministry of Finance and National Economy |
| Khalfan Mattar Al Hassani | Monitoring and Control Centre |
| Mohannad Hennawi | NAFFCO |
| Nawaf Al Sahan | National Information Centre, KSA |
| George Eapen | Petrofac |
| Khamis Awadh Abulani | Rabadan Academy |
| Saji Oommen | RAK Ceramics |
| Dr. Mohamed Abdullatif Khalifa Al Shehhi | RAK Human Resources Department |
| Walid Abdulrehman Mohammed | RAK Wastewater Association |
| Fru Christian Bills | SADAD Electronic Payment Systems |
| Muhamed Felemban | Saudi Industrial Development Fund |
| Anish Varghese | Skelmore Group |
| Mohamed Abdel Razek | Standard Chartered |
| Meshal Alotaibi | Specialised by STC |
| Nadia Obaid AlQabanji | Zayed University |
| Aliasgar Bohari | Zulekha Hospital |