MENA region's first-ever fuel on-demand platform announces new services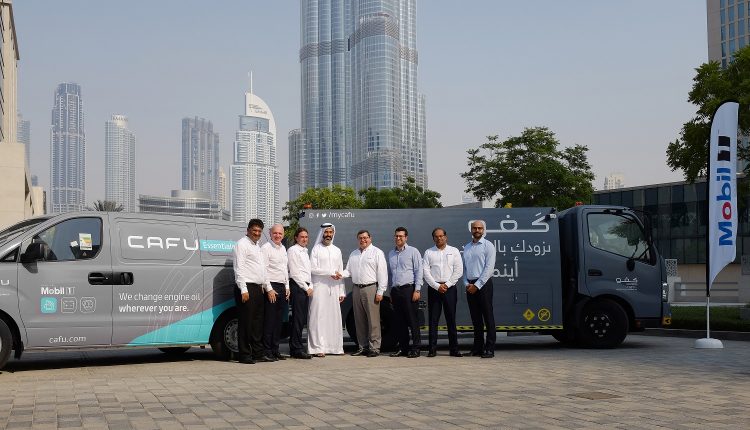 MENA region's first-ever fuel on-demand mobile application, CAFU, has announced the expansion of its services, by introducing "CAFU Essentials."
A new service under the CAFU brand, "CAFU Essentials" will provide on-demand maintenance services such as oil, battery and tire change as well as fuel system cleaning for motorists across Dubai, Sharjah, and Ajman. The services will be available through the CAFU app.
Rashid Al Ghurair, Founder of CAFU, said, "Last year, we introduced CAFU with the ambition of bringing innovation and convenience to the residents of the UAE by helping them save time, and enabling access to fuel services across Dubai, Sharjah, and Ajman. As market leaders and pacesetters, we are thrilled to announce the expansion of our services to include vehicle maintenance services, all accessible from the CAFU application".
CAFU has also recently signed a partnership agreement with ENGPHIL Enterprise, a distributor of EMA Lubricants Company Limited (EMALU). EMALU is an ExxonMobil JV and the marketer of Mobil lubricants in the UAE. The partnership agreement was signed by CAFU General Manager Antonio Al Asmar and Engphil Enterprises CEO GV Nair in the presence of CAFU Chairman and Founder Rashid Al Ghurair and Hesham El Amroussy ExxonMobil, Director Africa & Middle East Lubricants.
"This partnership for the use of the world's leading motor oil was inspired by the need to create an unparalleled collaboration which would benefit both our customers and businesses," said Ghurair.
Both brands will strategically leverage the other's strengths to create a formidable partnership, where CAFU leads the technology field on the AI and mobile platform creation front, while Mobil Lubricants bring its monumental business experience in the industry.
The introduction of vehicle maintenance services transforms CAFU into an end-to-end solution for vehicle owners, at home, work or play, saving time and money. All services will be run by fully-trained operators, in a simple, safe and convenient manner. Accessible at the touch of a button, the CAFU application will also feature the integration of sophisticated AI and Machine Learning capabilities, making the service efficient and intelligent.