Shurooq and Injazat Announce Cloud Partnership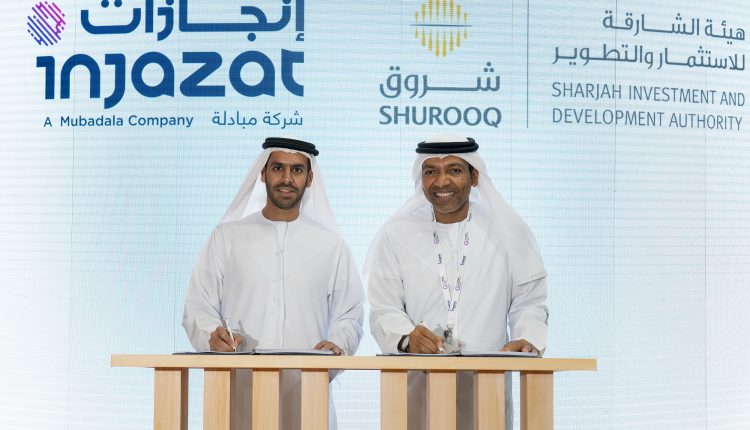 In a step towards enhancing its operational efficiency, security and reliability, Sharjah Investment and Development Authority (Shurooq) has entered into a strategic partnership with Injazat Data Systems for managed services and journey to the cloud.
The agreement which took place today (Monday 7th October) during Shurooq and Injazat's participation at the 39th GITEX Technology Week at the Dubai World Trade Center (DWTC) will support the development of Shurooq from a traditional OnPremise model – an organization that holds all its data at its physical location – to a hybrid cloud model with enhance flexibility and optimize the time and effort required to maintain infrastructure, while facilitating the latest technology upgrades with no extra efforts.
Injazat InCloud will also offer Shurooq important scalability aspects such as 'pay as you grow' and 'manage peaks and troughs', which would mean that Shurooq could focus on business objectives rather than backbone infrastructure.
Shurooq's data and digital landscape will be further protected through continuous upgrades on security systems without further investment in the infrastructure of security systems.
Shurooq employees are expected to explore and understand the power of the cloud and open new opportunities for their clients and investors through digital transformation and by utilizing Injazat's high-end managed IT services.
Commenting on the partnership, HE Marwan bin Jassim Al Sarkal, Executive Chairman, Shurooq said, "Shurooq is pleased to announce the full transition of its operations and investor services to the cloud. We believe the partnership that was signed with Injazat Data Systems to facilitate this will play a key role in the optimization and development of new business models for Shurooq by shortening the ideation-to-implementation cycle. Investing in turn-key computing solutions will give us freedom from long-term capital investments in technology and give us the flexibility to invest only on what is required, translating to no wastage of resources."
He added: "Implementation of cloud computing in the areas of IaaS (Infrastructure as a Service) will bring flexibility, scalability and added security to Shurooq's processes and optimize time and efforts to maintain infrastructure, while utilising the latest technology and upgrades, which in effect would optimize Shurooq's business operations more efficiently. The change in work culture and services this transition will bring about will also benefit our staff in enabling them to continue in delivering more value-driven services to our partners and customers."
For his part, Khaled Al Melhi, CEO of Injazat, said "We are pleased to partner with Shurooq on this venture and provide them with a digital haven. With this transition, Shurooq will be able to conduct its operations with higher sophistication and efficiency. Our work with Shurooq will only further the UAE's digital stature in a time of rapid technological growth. Injazat has always been an advocate for innovation and a facilitator of digital development for both private and public entities."
Injazat is an important regional digital transformation enabler. Injazta created an ecosystem with global partners to provide quality digital solutions that will eventually change the facilitate companies to adopt digital technologies swiftly.