Software AG Announces Winner of Season 2 'Future Disruptors Award'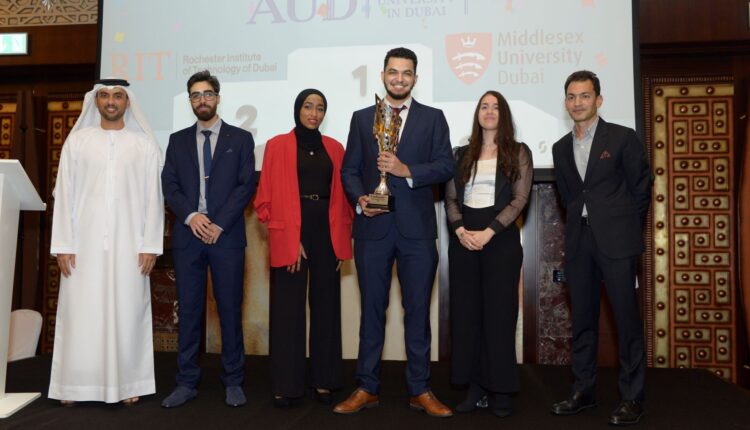 An innovation featuring a digital solution with capabilities to solve parking issues through a prototype called ParkEye – an AI based parking system created by a team of students at American University in Dubai has been voted as the undisputed winner of Season 2 of Software AG's Future Disruptors Award competition – UAE at a gala ceremony recently held in Dubai.
The People's Choice Award which debuted this year via digital voting through the five days of GITEX and on the spot voting at the gala ceremony was also swept by the same team thereby making them undisputed winners by jury as well as audiences.
The evening was graced by Guest of Honor, His Excellency Holger Mahnicke, Consul General of the Federal Republic of Germany in Dubai. Distinguished guests from the industry HE Wesam Lootah – CEO Smart Dubai, Mohammad Shael AlSaadi – CEO of the Corporate Strategic Affairs Sector at Dubai Economy, and Matar AlMuhairi – Vice President – DEWA also graced the occasion along with Moza Suwaidan from Digital Dubai, Sulaiman Abdulla from TDRA, Mr. Oliver Oehms of German Emirati Joint Business Council – AHK and Zaid Al Husseini from DMT Abu Dhabi as members of the esteemed jury for this award.
The program is an approach to skill youth for future of work and aims to elevate potential employment opportunities for youth globally. The task this year was to develop new IoT application designs for consumer and industrial capabilities, showcasing potential for IoT deployments for organisations to succeed in their digital transformation efforts, optimize efficiencies and better serve their customers. The prototypes have been created under this year's theme of 'Enriching lives, Improving experiences' and were showcased at the 41st GITEX Global.
The ParkEye project, created by the students at American University in Dubai (AUD) is an AI based smart parking mobile application that allows users to navigate to vacant parking slots by identifying parked slots. The Smart Social Distancing detector by students of RIT University in Dubai enables users to monitor multiple areas and report violations in real time, prioritising safety across organisations. DigiStay, is one of the other digital creations by students of Middlesex University that empowers hoteliers to provide guests with seamless, real-time and personalized experiences all along the guest journey, including at check-in.
Prior to announcing the winning team at the gala ceremony, Rami Kichli, Vice President, Gulf & Levant, Software AG congratulated all participants and encouraged every member to continue innovating to stand out for striking into unchartered territories and pioneering solutions to become future disruptors.
"The future disruptors program is a way of fostering innovative ideas and developing viable solutions for the industry," said Rami Kichli, Vice President, Gulf & Levant, Software AG. "With the program in sync with UAE's vision, we will do our best to continue encouraging youth and their ideas and enable them to act as a force for change in the regional economy. It has been one more wonderful year of students coming together and creating untapped solutions worthwhile for the real world. My heartfelt congratulation and best wishes to the teams on their immense success."
In its second year, the program encouraged participants to address real-world challenges through IoT, AI and machine learning based innovative models.  The shortlisted finalist teams received IoT training from the industry's best and funding to build the prototype for presence at GITEX Global. The finalists also have the opportunity to intern at Software AG, Dubai with hands-on experience with projects and career opportunities to eligible interns.
The six-month program featured extensive resources and in-depth training on Software AG's industry leading Cumulocity IoT platform led by the firm's technical team. In addition, mentoring sessions through the period from industry experts further nurtured students to unlock their potential.