UNLOCK concludes second Blockchain Forum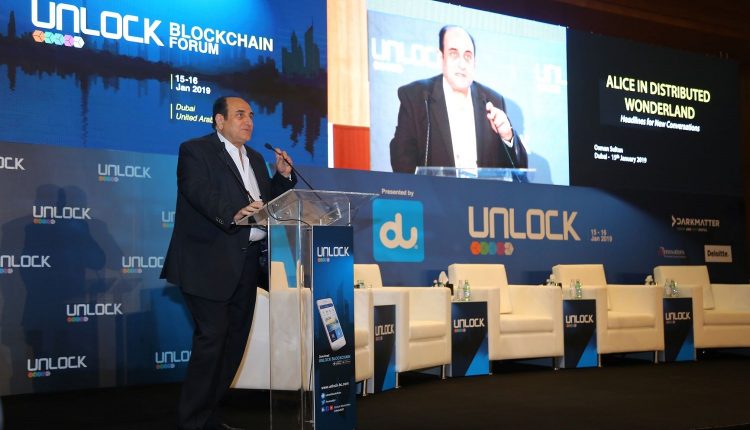 The UNLOCK Company DMCC, a platform that provides information, intelligence, insights and news pertaining to the Blockchain sector held its UNLOCK Blockchain forum in Dubai on Jan 15-16, 2019 at the Ritz Carlton Hotel DIFC.
Osman Sultan, Chief Executive Officer of Emirates Integrated Telecommunication Company (EITC), the parent company of du, presented his keynote at UNLOCK which talked about the Blockchain Platform as a Service (BPaaS) that du is now offering and how it plays an essential role in the formulation of the Smart City Vision alongside technologies such as AI, Internet of Things as well as human influence.
Mr. Walid Abou Zaki, Founder and Chief Executive Officer of UNLOCK also announced the formation of a blockchain fund "We are pleased not only to be holding our second series of UNLOCK on the 10th year anniversary of Bitcoin & Blockchain but we also hope to continue to build the ecosystem and as such we are working with many partners to launch a $50 million fund in 2020 to further develop the blockchain ecosystem in the region. Regional private and family offices are keen to invest in the technology and digital assets but under proper terms and well-structured strategy."
In the government panel on day one, Dr. Khalid Tahhan, CEO of Blockchain Solutions and services talked about Oman government strategy to implement blockchain use cases across 21 Ministries. Mr. Ali Hashmi Director of Technology & AI Lead at Deloitte talked about the importance of Blockchain adoption and alluded to a huge governmental blockchain project that Deloitte is participating in within the MENA region.
In addition, Dr. Hesham Bin Abbas, Blockchain Technology Advisor, Ministry of ICT and Communications also discussed the KSA strategy for introducing blockchain across governmental and private entities, and the importance of building the talent base, the use cases, as well as better understanding of technology and investment environment.
According to Toufi Saliba CEO of Toda Network, "today Blockchain has only 0.2% penetration across the world and until all five attributes which include implementation, security, efficiency, confidentiality, scalability and interoperability are made available, blockchain implementations will not become widespread so we must work on this in the upcoming year."
du and Dhonor healthTech, a national company focused on global healthcare blockchain solutions, announced they were entering into a collaboration to build the UAE's first Patient Safety Blockchain Solution. This solution is designed on du's BPaaS in order to provide authenticity and compliance traceability that delivers the transparency and trust that has eluded the healthcare industry to date.
Finally, Lara Abdulmalak, project lead for UNLOCK Blockchain stated, "We are very proud to have held our second edition of UNLOCK despite the bearish conditions in the market today. We thank once again our esteemed speakers, our sponsors du, DarkMatter, Avanza Innovations, Deloitte, Centurion & Co. and our 20 plus startups for being with us this year. We hope to continue to grow the community and improve on UNLOCK year after year.