How can we use IoT to fight against Covid-19
Tom Lindgren, Vice President of Digital Solutions at Haltian explains how IoT can be used to fight COVID-19.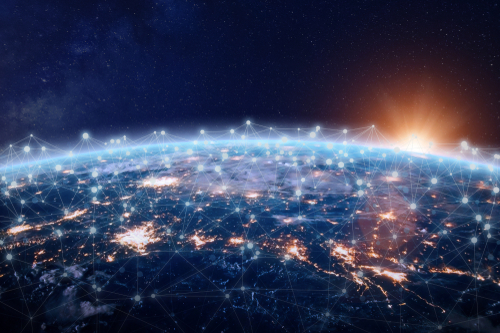 Prevention is the key when we talk about using digital solutions to battle against COVID-19.
Right now, all over the world, people are thinking about returning back to their offices and workplaces. Public spaces have opened, but the fear of the second wave has in a constant state of the unknown: Will it be safe for me to work at the office again? I need to travel for work but is it safe to use the airport? Are my kids safe going to school or using the mall?
With IoT solutions in place, we can ease these worries and give more real-time information for all users and the cleaning staff, making the return to the office and other public spaces as safe and easy as possible.
Prevention of COVID-19 can be summed up to three things: efficient cleaning, good hand hygiene, and social distancing. Lucky for us, IoT can help with all these things.
Efficient data-driven cleaning with IoT solutions
Cleaners have taken a big role in the fight against COVID-19: Efficient cleaning is one of the most important elements of virus prevention and cleaning efforts have been enhanced everywhere. Moving away from the traditional way of professional cleaning, where the cleaners make scheduled rounds around all spaces has become more necessary during the COVID-19 crisis. IoT solutions help to move towards so-called on-demand cleaning, which saves resources and helps to make sure all spaces are always clean and safe.
In many public places, certain areas need to be cleaned after a number of people have visited them. This can mean cleaning after every use or a threshold of, for example, 30 people. But how do we know how many people have visited the washroom or if a meeting room has been used?
Smart washrooms are an excellent example of how IoT solutions provide us with this information: smart sensor devices monitor the number of people that have gone through the washroom door and can detect which stalls are occupied. With IoT and smart cleaning solutions, we can be proactive in helping the cleaning staff use their time more efficiently by cleaning the areas that require cleaning as quickly as possible and sharing their cleaning information effortlessly.
Cleaners can mark a washroom 'cleaned' in their mobile application and all this information can be shown on an info display outside the washroom. This way the users are informed if the washroom is available, and when it has been cleaned thus avoiding unnecessary contacts.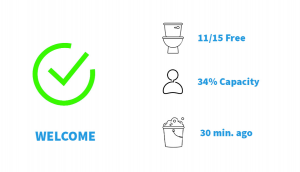 When a washroom is being cleaned or is full, the information can be available in real-time, so that people know to use a different washroom. When all things are connected, the information on where to find available washrooms can be displayed on the info screen as well.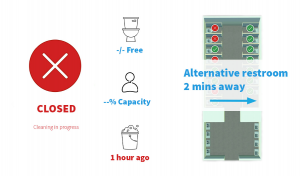 Visitor and occupancy monitoring enables more efficient cleaning in offices as well. This can mean, for example, heatmaps of your office show which areas have been used and which are safe to go to. At the same time, the cleaners know what spaces actually need cleaning and save their valuable time in cleaning used spaces only. For workstations on phone booths, a small wireless sensor device detects movement and can tell when the desk is occupied. This enables the cleaning staff to disinfect used desks and mark them clean and available for the next user.
Fill rate monitoring to keep up good hand hygiene
The best way to prevent the spread of COVID-19, or any disease for that matter, is good hand hygiene. We were all quickly informed of the correct steps of washing and sanitizing your hands. To maintain good hand hygiene at all times, washrooms need to be stocked with hand towels and paper, soap and hand sanitizer.
IoT can be used to monitor the dispenser fill rates in public washrooms with wireless sensor devices that are simply placed inside any dispenser, from where they measure the fill rates, send information on the status and notifications when supplies are running low. Pretty much all the paper and towel dispensers can be retrofitted with IoT sensors so there is no need to invest in automatic dispensers.
The cleaning staff is equipped with a mobile application from which they can monitor the situation of their cleaning areas and get notifications on cleaning and restocking needs.
In regards of the end-user, the goal is that they will not even know about such a system being in place, but simply that the washrooms they use are never out of stock.
This solution has been proven to save the time of the cleaning staff, as they don't have to perform unnecessary checkups, but can only stock up the washrooms that are running low, hence saving their time to clean areas that need cleaning.
IoT enables social distancing
IoT can also be used to ensure that the requirements of social distancing are being met. The usage and occupancy information is not only valuable to the cleaning and facility management staff, but also the end user so that the return to the office is as safe as possible.
In smart offices, people can see occupancy and capacity information and book workspaces remotely. Smart solutions can give you available workspaces that have not been used or that are cleaned. They also show what capacity of users are in the building
If you want to have, for example, a 40% capacity in your office, you can set up a threshold for the number of people, and the solution gives the users a notification of full capacity. This way your workers can simply check their office information in the morning.
Tracking down cases with IoT
As said before, prevention is the most important thing in our fight against Covid-19. Nevertheless, many public areas and offices have taken precautions for the worst-case scenario: having a positive case on your premises.
All over the world, we have seen excellent use cases of connected technologies that can be used to track down cases and inform about possible exposure to Covid-19: mobile applications where you can share your information and get notifications if needed are probably the most common ones.
In smart offices and buildings, IoT solutions can work the same in the worst-case scenario. Usually, for example, ID tags with which one can share your location to your colleagues can help with quick informing if a case of COVID-19 has been detected. If a person with a positive case is known to have visited the premises on a certain day, the smart solution can be used to check who else has visited the office then and they can be notified quickly, thus preventing any further spread of the disease.
 IoT is really not just about measuring data and monitoring; it's about getting valuable information for the users and making the information easily available. Furthermore, it helps people intuitively make right decisions based on said information, making processes flow more easily and efficiently.
Whether it's information about cleaning, visitors, or occupancy, IoT solutions can help the fight against COVID-19 by preventing the spread of the disease and ease our worries by making the return to public spaces and offices safe.