Aruba Delivers Wi-Fi 6 To Small Businesses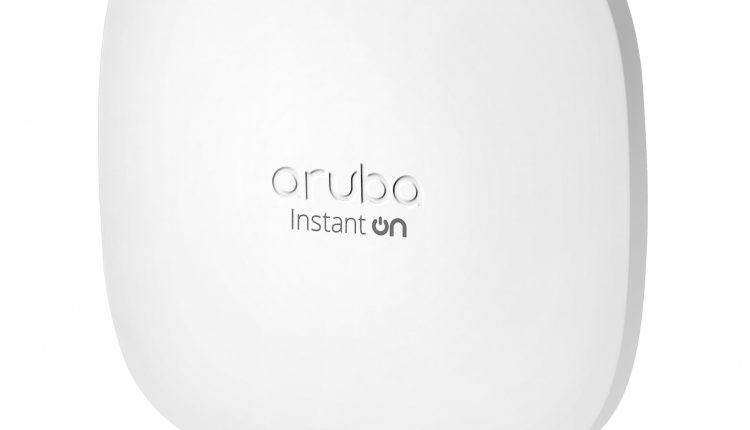 Aruba has introduced a new Wi-Fi 6 (802.11 ax) Access Point (AP) designed specifically with the needs of smaller organisations in mind.
The new Wi-Fi CERTIFIED 6  Aruba Instant On AP22 access point delivers the blazing fast Wi-Fi speeds, reduced latency and advanced security capabilities characteristic of Wi-Fi 6, all with the reliability and ease of deployment and management that organisations have come to expect from Aruba. With the new Instant On AP22 access points, smaller businesses and organisations now have access to simple, secure and smart connectivity solutions that enable SMBs to support enhanced user experiences, without the cost or complexity.
As IDC is forecasting that more than 316 million Wi-Fi 6E devices will enter the market in 2021, this latest addition to the Instant On family is certainly a good thing for SMBs. It gives small business owners the ability to not only capitalise on opportunities today, but also prepares them for the future.
Delivering four times the capacity of 802.11ac access points, the AP22 provides an exceptional user experience no matter the environment, whether it be remote offices, hybrid classrooms, or reimagined retail and hospitality. For those organisations that have had to realign or shift their modes of working in response to the current business climate – from mostly in-person customer interactions to online-only or having all staff on-site to many working from home, for example – this additional capacity provides an added safety net to ensure that operations continue to run smoothly.
Like the rest of the Aruba Instant On portfolio, the AP22 easily integrates with existing Instant On indoor/outdoor APs, as well as the recently-introduced 1930 switches, and can be set up and centrally managed via the Instant On mobile app and/or cloud-based web portal. In fact, Instant On is so quick and easy to set up, you can do it in less time it takes you to grab a cup of coffee.
Aruba has also partnered with leading e-marketing companies – Aislelabs, Purple, SkyFii, Wavespot, and Zoox Smart Data – to transform Aruba Instant On into a powerful marketing platform. Each vendor offers a unique suite of free and premium services that can be configured in minutes and produce results quickly. Learn more about the partner solutions and unique added-value capabilities here.
Wired and wireless connectivity plays a critical role in today's business world. No business – large or small – can afford costly downtime, a damaging data breach or reduced customer loyalty. Since its introduction last year, Aruba's mission with Instant On has been to give small businesses the tools and technology to deliver exceptional wireless experiences to their customers and improved efficiencies to their employees through world-class connectivity solutions. With Instant On, small businesses now have the simplicity, security and intelligence they need to compete and win in today's dynamic business environment.