Samsung announces pre-orders for Galaxy Z Flip5 and Galaxy Z Fold5 in the UAE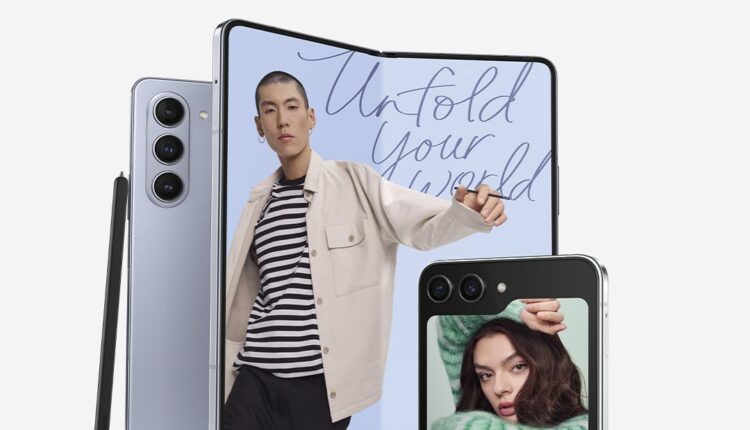 Samsung Gulf Electronics has announced that the new Galaxy foldables – Galaxy Z Flip5 and Galaxy Z Fold5, are now available for pre-order for customers across the UAE until August 10, 2023.
The new foldables offer unique experiences with sleek and compact designs, countless customisation options, and powerful performance. From content creation on Galaxy Z Flip5's new Flex Window to seamless multitasking on Galaxy Z Fold5, this Series of Galaxy foldables meets and exceeds the distinctive needs of today's users. Furthermore, with an optimised battery powered by the latest processor, the Samsung Galaxy Z Series transforms what is possible with a smartphone – open or closed.
Fadi Abu Shamat, Head of Mobile eXperience Division at Samsung Gulf Electronics, said: "Every day, we are seeing an increasing number of consumers opting for our foldables, captivated by the unparalleled experience they provide. Our exclusive pre-order offers will therefore make it easier for our Galaxy fans to not only access their favourite devices in time but also upgrade for an incredible value."
To celebrate the milestone, Samsung has announced special offers across Samsung.com, and in Samsung stores as well as with retail partners.
UAE customers who order ahead of time via Samsung.com will be eligible for a free storage upgrade from 256GB to 512GB as well as a 2-year Samsung Care+, Samsung's support service for accidental damage, repairs, and more. Samsung is also offering up to 24 months 0% installment plan in partnership with select banks in the UAE, as well as trade-in benefits.
Those wanting to pre-order the new devices at Samsung stores and in retail stores will also be eligible for the same storage upgrade and a 1-year Samsung Care+ warranty.
In recognition of its exceptional presence in the Middle East, Samsung has also announced pre-orders for a special Samsung Galaxy Z Fold5 1 TB Premium Edition. Available exclusively in limited quantities, the phone boasts a mesmerising Arabic geometric pattern that pays homage to the region's opulent heritage. The premium edition box is thoughtfully packed with all the essential accessories, enhancing the overall experience and making it truly extraordinary.
Galaxy Z Flip5 lets users express themselves with exclusive colours available on Samsung.com including Mint, Graphite, Cream, and Lavender, as well as a range of accessories including a Clear Gadget Case, Flap Eco-Leather Case, Flipsuit Case and easy-to-carry Silicone Case with Ring to create a more personalised look. In the UAE, the Galaxy Z Flip5 512GB is priced at AED 4,349 while the 256GB is priced at AED 3,899.
Galaxy Z Fold5 is available in Icy Blue, Phantom Black, and Cream, along with a variety of cases that offer practicality and style including a Slim S Pen Case, Clear Gadget Case, Eco-Leather Case, and a Standing Case with Strap. In the UAE, the Galaxy Z Fold5 1TB is priced at AED 8,149, 512GB is priced at AED 7,249 whereas the 256GB is priced at AED 6,799.
To learn more about Galaxy Z Flip5 and Galaxy Z Fold5, please visit https://www.samsung.com/ae/smartphones/galaxy-z-flip5/ or https://www.samsung.com/ae/smartphones/galaxy-z-fold5/