Creating Compelling Channel Collaborations
Mohamed Hoteit, sales manager, Eastern Gulf, Axis Communications, delves into the building blocks of a successful business partnership.
With recent disruptions to global supply chains, many businesses are rethinking their structures, operations, and business models. Specifically, some companies are evaluating the spaces they occupy when it comes to global operations and their ability to offer new solutions relevant to changing markets. External perspectives can be valuable here, and it's critical for businesses to find partners they can trust to guide them.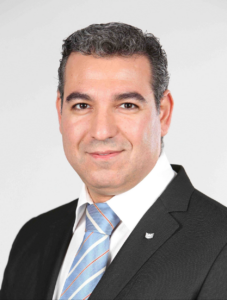 Channel partner programmes (where two or more companies partner with each other to maximise their collective reach and value) can help businesses benefit from these external perspectives and other companies' expertise. These programmes range from simple distribution agreements to fully immersive collaborations around knowledge, technology, resources, and ideas.
Successful channel partner programmes can result in new clients, new networks, and new strategies that can ultimately redefine a business. It is therefore important to recognise what these partnerships should look and feel like. With any new business relationships come legitimate scrutiny, and with this in mind, it's critical to know the elements that are likely to make them successful and long lasting.
Innovation and quality
We tend to think that innovation occurs naturally, or we regard it as a given when factoring it into a business strategy, but innovation can be taken for granted within channel partnerships. Many partners feel that the responsibility for innovation lies with the channel organisation, while 30% of channel partners admit it is not crucial to their business, according to a recent study.
For businesses, the result of innovation should be novel product and service offerings, all connected and enabled by new technologies, such as artificial intelligence (AI) and edge computing, serving as an end-to-end solution. Channel partners help make this possible by converging their technical know-how and providing answers to previously unanswerable questions.
However, constantly striving for innovation should never come at the cost of quality. From drawing board to delivery, quality thinking is essential to offering a resilient and reliable product. By enforcing quality control, companies can minimise failure and maximise long-term performance, guaranteeing satisfactory total cost of ownership (TCO). This element is crucial in the context of technology sales, and through channel partners, it can be prioritised.
Relationships, trust, and business integrity
Trust is a loaded word. While any two businesses can enjoy a profitable partnership, the longevity of that partnership depends on the relationship between them. A business relationship can be characterised by a number of factors, and the importance of these factors often differs according to specific regions or sectors. For example, a Harvard Business Review report says that trust between managers in the Middle East is primarily determined by a pre-established sense of trust and respect for each other's values. Partners need to feel secure when purchasing from each other and engaging over the long term, and they also need to trust the systems the other business deploys, including cybersecurity systems.
When it comes to business integrity, partners must be open and honest, reflect anti-corruption principles, and enact policies that refrain from illegal behaviour or questionable ethical practices. This applies to a company's entire supply chain. Oversight can be a challenge when multiple suppliers and brokers are responsible for creating an end product, hence the need for products and their applied resources to have transparent origins. A good way to think about the perceived integrity of a business is to ask yourself how you would feel having the other company's logo displayed next to yours.
Sustainability and a long-term perspective
With the right partner, businesses can look to each other when they want to expand their outlooks and think about their futures. And this is not limited to just two businesses. Working as an ecosystem and bringing together thousands of partners and decades of consistent working strategies, companies can visualise the outcome of their efforts and build on their hard work. In the case of technology, that means a focus on a product's entire lifecycle, giving more accurate TCO indicators and truly offering a complete solution.
But with a long-term perspective comes the need to strategise for a changing world with evolving trends and expectations. The ability to do business in 2022 and beyond will be driven by a company's approach to sustainability, as emphasised by global agreements such as the UN Sustainable Development Goals, which speak to economic growth and industrialisation. We see this focus across the entire supply chain, ranging from minimised packaging and renewable power to social responsibility and safe and ethical labour practices. All of this combines into business practices that channel partners can be proud of, setting an example for how sustainability informs collaboration.
Channel partner programmes exist to make companies better. Being able to identify the ideal traits of the right programme, as well as the integrity of the organisation that operates it, is the first step to deciding whether the programme will benefit your business. With a holistic perspective on what a true partner should look like, business leaders can determine the suitability of a technology product and services provider and set their companies on a course for the future.