Triumph in the Era of Digital Transformation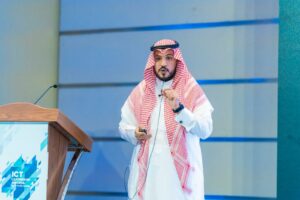 In an era characterised by the rapid reshaping of our work, connectivity, and innovation throughtechnology, it becomes paramount to recognise the visionaries and leaders who not only embraced this wave of digital transformation but also spearheaded it. Last night, CXO Insight ME brought together exceptional individuals and companies who have made an indelible mark on the ICT landscape in Saudi Arabia.
The ICT Leadership Awards ceremony in Saudi Arabia commenced with a welcome note from Jeevan Thankappan, Managing Editor of CXO Insight ME. He highlighted how Saudi Arabia has emerged as a beacon of technological innovation in the region, with digital transformation gaining momentum across all sectors in the country.
The keynote address by Khaled Alateeq, Regional Director – MEA at Trellix, delved deep into thechallenges faced by security practitioners today, offering insights into the mindset of the Chief Information Security Officer. Following this, Hilel Baroud, CEO of Proven Consult, delivered a presentation on empowering innovation through Arabic digital platforms.
The winners of inaugural ICT Leadership Awards in KSA:
Personality Awards
| | |
| --- | --- |
| Sarah AlHarbi | Government |
| Jayesh Maganlal | ROSHN |
| Waleed N Al-Otaibi | Riyadh Bank |
| Majed Al Sehli | Saudi National Bank |
| Majid Ahmed Bin Sawad | Modon |
| Hamad Alsulaiym | Capital Market Authority |
| Eng. Sulaiman Abdullah Alkarashi | SME Bank |
| Abdulaziz Alqahtani | NIC |
| Abdulaziz Almotiry | Saudi Arabian National Guard |
| Raed Alqahtani | Ministry of National Guard |
| Ali Zubayd | Digital Government Authority |
| Ahmed Bakr Eltohamy | Trapeze |
| Abdullah Al Suliman | Tamkeen Technologies |
ICT Leadership Awards
| | |
| --- | --- |
| Neil Menezes | Ma'aden |
| Dr.Faisal AlNasser | Almarai |
| Imtiaz Ahmed | Alrajhi Bank |
| Dr Layla Hamad Al Qasem | Ministry of Islamic Affairs, Dawah and Guidance |
| Johnson Joseph | Zamil Offshore |
| Vikram Verma | ROSHN |
| Ramesh Murugesan | AlGihaz Holding |
| Abdalla Binothman | Saudi Electronic University |
| Haithen A Babgi | STC |
| Mohammed Alnefaie | Saudi Royal Guard |
| Muhammad Junaid | United Motors Group |
| Asim Badhuralam Syed | Universal Cold Stores |
| Muhammad Ali | Sajaya Medical Services |
| Dr Rami Ayoob | Spark Tech Hub |
| Dr. Mustafa Hassan Qurban | King Fahd Military Medical Complex – Dhahran |
| Devender Manral | Al Othman Holding |
Vendor Awards
| | |
| --- | --- |
| Delinea | Privileged Access Management Excellence Award |
| Veeam | Data Protection Excellence Award |
| Recorded Future | Cybersecurity Intelligence Excellence Award |
| BeyondTrust | Identity and Access Security Excellence Award |
| Trellix | Network Detection and Response Excellence Award |
| Jeraisy Computer and Communication Services | System Integration Excellence Award |
| Help AG | Managed cyber defense excellence Award |
| Progress Software | Network monitoring excellence Award |
| DigiGlass | Managed Security Services Provider excellence Award |