Siemens launches Home Connect technology in the UAE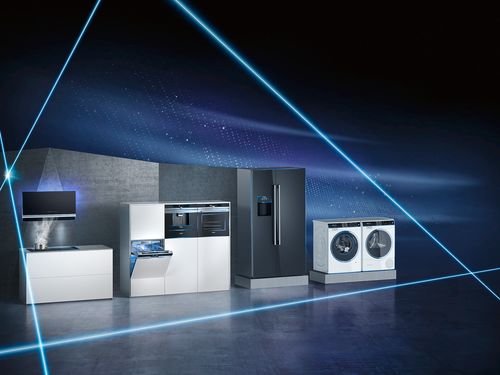 Siemens Home Appliances has launched its next-generation Home Connect technology in the UAE.
As part of the launch, Siemens took over Dubai's Burj Khalifa for an activation on June 18th 2019.
The event was part of Siemens Future Talks – Siemens's knowledge-sharing platform, where leading names and opinion leaders from different industries gave keynote speeches for the technology shaping tomorrow.
Siemens Future Talks saw some of the region's visionaries join BSH top management and authorised dealer decision-makers for a schedule of discussions on the future of innovation, connectivity, smart technology and future.
Held at the Dubai Address Hotel, Siemens Future Talks saw the CEO of du telecoms Osman Sultan deliver a talk on the future of the smart home. Prof. Ozgur Demirtas, Founding Chairman of the Center of Excellence in Finance (CEF) at Sabanci University in Turkey, and a Marie-Curie Research Fellow focusing on technology, robotics and IoT, mapped out a compelling vision of a shared future thirty years from now.
The discussions at the event also delved into topics such as UAE's evolution over thirty years, the future of connectivity, technological disruption and what a digitally interconnected word means for people as well as businesses.
Siemens Home Connect was the highlight of this Future Talks event.
According to Siemens, Home Connect turns living spaces into connected homes where devices communicate with users and each other seamlessly, and can be controlled over Wi-Fi.  Appliances now pave the way for an intuitive, seamless and smart lifestyle where communication between people and appliances becomes easier than ever before.
"We're always looking to the future, and our Future Talks are part of our desire to define the possibilities of connectedness for tomorrow.  In similar vein, we are delighted to bring Siemen's unique Home Connect Technology to the United Arab Emirates, where a sophisticated audience is looking for intelligent solutions that fit with busy lifestyles. With Home Connect, we're emphasising the daily stories of convenience and engagement that make owning smart appliances a joy. Now all our home appliances will be connected and we would be able to control them from wherever we are!" said BSH Home Appliances CEO Tomas Alonso Garcia-Salmones.
Home Connect technologies craft stories of engagement – such as the coffee maker brewing your morning cup without you needing to walk into the kitchen, a blinking home lamp indicating that the laundry is done, or the dishwasher automatically placing an order for dishwashing powder when it runs low.
Meanwhile, the two cameras installed within the Siemens smart fridge let users take a peek inside wherever they are, through the intuitive Home Connect app.
At the heart of the Siemens Home Appliances universe of connectivity is the Home Connect app. It's the central console that enables users to communicate with everything – from their fridge, oven, coffee machine or vacuum cleaner – via their smartphone. Appliances can be remotely switched on or off, timers can be adjusted, and programmes selected.