Sony debuts 4K 3-chip camcorder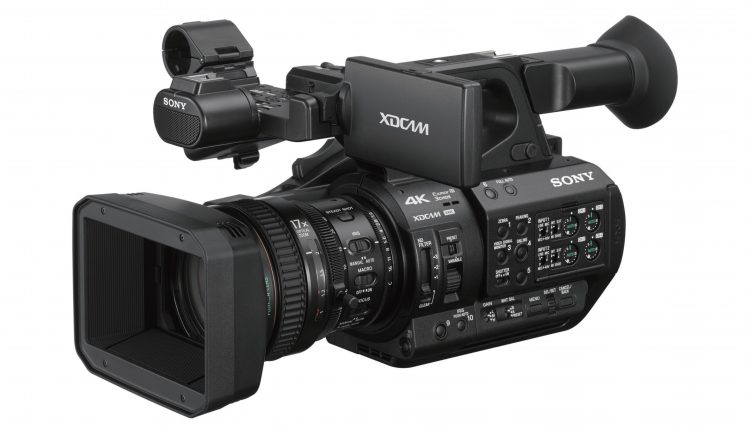 Sony is expanding its XDCAM line of professional camcorders with its new flagship handheld PXW-Z280. The new model boasts three 1/2-type Exmor R CMOS sensors, delivering high sensitivity of F12 (59.94p), long zoom ratio and deep depth of field, ideal for news gathering. In addition, 3-chip sensors and 4K 4:2:2 10-bit adds vivid imagery and delicate color gradation. Enhanced network features, versatile formats and interfaces enable direct-to-air workflows, making this model ideal for broadcasters, production companies and documentary creation.
The PXW-Z280 is designed for easy use, with features such as the advanced Face Detection Autofocus (AF) function. Users can select "Face Priority AF", convenient for shooting the scene including human objects and newly introduced "Face Only AF". This feature is important especially in more demanding 4K shooting applications, such as recording interviews or lectures, helping a specific person automatically stay in pin-sharp focus by using together with registration function of the face. A 17x zoom lens and three independent control rings with end-stop allow manual control of focus, zoom, and iris for quick and precise adjustment.
Sony's Electronic Variable ND filter allows greater exposure control by varying the density of the ND filter during shooting while maintaining resolution and depth of the fields. The camera also supports S-Log3 allowing users to create beautiful imagery and Sony's Instant HDR workflow, eliminating the need for color grading.
The PXW-Z280 features advanced network features to enable a secure, seamless wireless Electric News Gathering (ENG) workflow.
Based on the technology developed for Sony's cloud-based ENG service, "XDCAM air," the new camcorder uses Sony's Quality of Service (QoS) for live distribution of high-quality broadcast content using a Dual Link connection multiplexing two cellular networks, assigning Planning Metadata and browsing and getting clips in the recording media on camcorders from a distant broadcast station via the cloud. In addition, an integrated Wi-Fi module and Ethernet connector enable hybrid Wireless/Wired data transfer, remote control and monitoring from devices such as a smartphone, tablet or PC, giving users more flexibility in production.
A range of formats including XAVC Intra/Long, MPEG HD422, MPEG HD and DVCAM are available to support established workflows. PXW-Z280 also has various interfaces to fulfill the need of professional users. SxS card and SD card with optional adapter can be used as recording media, giving flexible choice for users.  Four-channel audio recording with independent volume dials enables precise control of external input audio and an attached MI shoe microphone. Dual MI shoes provide cable-less connection with Sony's UWP-D series wireless microphone receiver and use of a video light at the same time. 12G-SDI enables 4K 50p / 60p transfer between long distance using only one BNC cable.
The PXW-Z280 camcorder is planned to be available in July 2018.