GITEX 2018 to spotlight AI and startups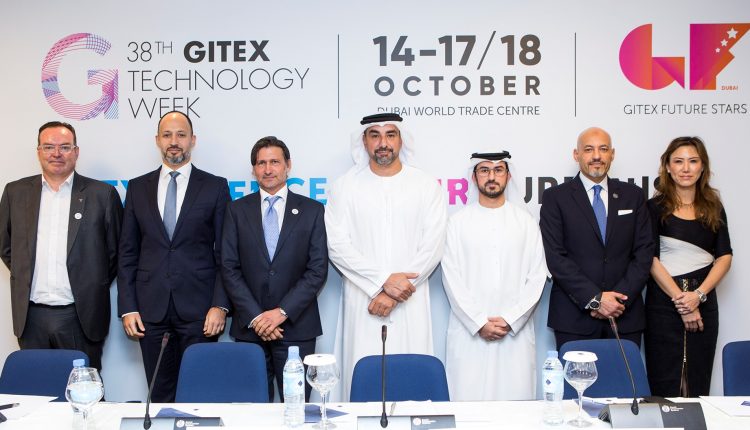 The 38th edition of GITEX Technology Week is scheduled for 14th October running through until 18th October at the Dubai World Trade Centre and will present the region's biggest ever AI event, its most illustrious investor-startup gathering, and the launch-pad for tens of thousands of game-changing technologies including 5G, robotics, virtual and augmented reality. To be held under the tagline 'Experience Future Urbanism', the event will host hundreds of internationally renowned companies that will be demonstrating live how robots and AI will help businesses grow and change. Startups at the event will have the opportunity to exhibit their most unconventional takes on the future tech.
The twin tech expos, GITEX Technology Week and GITEX Future Stars are set to feature more than 4,000 innovative exhibitors from 100+ countries and 290 hours of expert keynote and panel discussion. Global tech industry players will unveil their latest revolutionary tech at GITEX Technology Week with concepts that range from car windows that double-up as entertainment packed touchscreen video platforms to X-ray scanning mirrors. GITEX Future Stars will witness the latest in technology from sit-in pods that provide a full health check-up and diagnosis quicker than it takes to call a doctor (BodyO), to the world's smallest and most lightweight robotic lunar rovers and lunar landers (ispace).
These concepts and thousands more will be showcased live in the company of 100,000+ tech experts and across 1.4million square feet and 21 halls divided into sectors including Global Smart Cities, IoT (the Internet of Things), Smart Workplaces, Cloud, Cyber Security and Future Tech.
Trixie LohMirmand, Senior Vice President, Events Management, Dubai World Trade Centre, organisers of GITEX, said: "We are proud that GITEX enterprises, startups and government entities come together, striving to transform intricate tech talk into meaningful manifestations of happiness that are relatable, accessible and in reach of a truly inquisitive and intelligent audience."
AI: What will be showcased this GITEX?
Huawei will unveil AI that they predict will revolutionise how governments, businesses, and consumers interact with the world, presenting a new AI Chipset with machine learning algorithm and a number of Enterprise Intelligence applications based on AI technologies.
AI will be at the heart of SAP's 'The Intelligent Enterprise' exhibiting theme, itself aimed at showcasing how the future of Smart Cities can reimagine our daily lives. The firm will also use GITEX for the Middle East debut of one of the world's smartest concept cars.
HPE will allow businesses to experience their latest solutions to ramp up, optimize and scale AI across varied industry sectors. Lorenzo Gonzales, HPE's Chief of Digital Innovation and Global Presales Strategist, will also be leading the AI-led "Intelligent City: HPE digital (r)evolution of a Smart City" discussion at GITEX.
In addition GITEX's eight conference verticals will provide more than 290 hours of unmissable expert led seminars.
GITEX Future Stars will see a growth of more than 80% in startup participation this year. At the show, 700+ tech startups will draw the attention of 1,500 of the elitist VCs, corporate buyers and incubators found anywhere in the world. Google Ventures, the Amazon Venture Fund, IFC-World Bank Group, IDG Ventures, Draper Associates and the European Business Angel Network have all chosen the show to find the next world-changing tech to invest their money into.
Saudi Arabia's non-profit Prince Mohammed bin Salman bin Abdulaziz Foundation (MiSK) is devoted to cultivating learning and leadership in youth. At GITEX MiSK will be launching their own innovation department, bringing 20 startups from KSA to showcase their creative tech. The Kingdom has committed $45 billion to investing in tech, and regional startups are relishing all the attention – the next step of which will be GITEX Future Stars' Saudi Acceleration Day. Sponsored by TAQNIA – the KSA incubator investing in technologies and startups that contribute towards Saudi's economic diversification – the mentoring programme will allow young firms to receive expert mentoring on site. The Saudi Telecom Company's (STC) InspireU initiative will bring its fourth batch of ten startups to the show too.
International influence: the biggest names in tech and investment
The inaugural GITEX Global Investors Summit (G2i) will be the show's first ever gathering of distinguished investors, hosting more than 400 prolific global, regional and local venture funds, LPs, family offices, and institutional and private investors from 30 countries to assess and access local and regional investment opportunities. Notable speakers include Vani Kola, Founder and Managing Director of Kalaari Capital, one of India's most powerful early stage VC firm and Anthony Herman, Venture Fund Lead of Amazon and a founding member of the $1.39bn fund Formation 8.
GITEX will feature the strongest Middle East and North African Government involvement of any exhibition, with nearly 250 government arms set to offer live demonstrations across the show's Global Smart Cities platform. Dubai Legislation Committee is the first interactive legislative platform in the world to enable the trade, business and finance sector to participate in the formulation of commercial, economic, and financial legislation. They will be showcasing their smart services for the first time. Smart Dubai is inviting visitors to experience first-hand how emerging technologies will be implemented to help Dubai achieve its goal of becoming a truly paperless city by 2021.
In what will be the UAE's most visual demonstration yet of the life-altering capabilities of 5G – a tech that Middle East mobile operators are predicted to invest up to $50billion in by 2021 – both Etisalat and du will reveal their unique visions of the unlimited possibilities of the super-speed network that will run 100x faster than 4G, live trialling 5G in demonstrations covering healthcare, remote robotic surgery, AR/VR, IoT, autonomous technologies, cloud computing and more.
Prizes that will take startups to the moon – via Silicon Valley
Pushing even further into the future, and GITEX Future Stars' inaugural Mohammed Bin Rashid Space Centre (MBRSC) Space Innovation Challenge – one of four innovation competitions running at GITEX Future Stars – will reward the world's best space travel startup a $60,000 top prize, incubation with MBRSC and an agreement for potential future work with both the MBRSC and the UAE Space Agency. Entries so far include lunar exploration rovers through satellites capable of locating plastic pollution dumped at the foot of the ocean.
The event will also offer the opportunity to startups to win investment. The GITEX Supernova Challenge returns, with a total of $180,000 up for grabs across its four prize categories – the Best Global Startup of which will take home a cool $100,000, the largest prize of its kind in the MENA region. The Accenture Innovation Awards will also grant one winning startup an all-expenses paid trip to Silicon Valley.